Description
The Beechcraft Musketeer is a family of single-engined, low-wing, light aircraft that was produced by Beechcraft.
General Information
The line includes the Model 19 Musketeer Sport, the Model 23 Musketeer, Custom and Sundowner, the Model 23-24 Musketeer Super III the retractable gear Model 24-R Sierra and the military CT-134 Musketeer.
The Musketeer line was in production from model years 1963 to 1983, during which time a total of 4,366 were produced.[ The type certificate for the Musketeer family of aircraft has been owned by Hawker Beechcraft since March 26, 2007.
Landing gear
The main difference between the Musketeer line and other similar light aircraft is the Musketeer's landing gear. While the competitive Cessna 172s use spring-steel main gear, the Piper PA-28 Cherokees use oleos and the Grumman American AA-5s use fiberglass-sprung main gear, the Musketeer family use a trailing idler link gear system with a compressed rubber puck suspension system. This gives the aircraft quite different landing characteristics compared to the competition; light touchdowns are often accompanied by the idler links skipping and producing a landing that is less-graceful than anticipated. Nevertheless, with practice, smooth landings are easy to accomplish.
As a result of this type of landing gear design, Beechcraft did not design or offer wheel fairings for the fixed gear models. Several aftermarket manufacturers have designed and tested wheel fairings for Musketeers.
For more details of the various members of the family, and a summary of the variants, click here, and here.
Specifications below are for the Model 23 Musketeer III.
Model 19 Musketeer Sport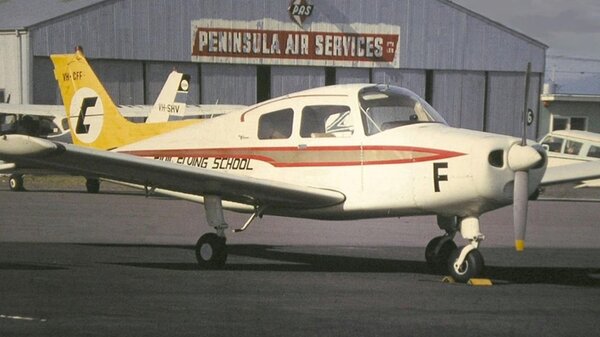 Model 23 Musketeer
Model 24-R Sierra
Specifications
Seats:

1 Pilot 3 Passengers
Length:

25 ft 8 in (7.82 m)
Wingspan:

32 ft 9 in (9.98 m)
Height:

8 ft 3 in (2.51 m)
Wing Area:

146 sq ft (13.6 sq m)
Empty Weight:

1,375 lb (624 kg)
MTOW:

2,400 lb (1,089 kg)
Fuel Capacity:

60 US gal
Powerplant:

1 x Continental IO-346-A four cylinder air-cooled horizontally opposed aircraft piston engine, 165 hp (123 kW)
Vne:

152 kn (175 mph; 282 km/h)
Cruise Speed:

102 kn (117 mph; 189 km/h) long range cruise speed
Stall Speed:

63 kn (72 mph; 117 km/h)
Range:

676 nmi (778 mi; 1,252 km) with reserves
Takeoff Dist.:

Over 50 ft obstacle: 1460 ft
Landing Dist.:

Over 50 ft obstacle: 1260 ft
Rate of Climb:

728 ft/min (3.70 m/s)
Service Ceiling:

11870 ft