Description
The Beechcraft Debonair (later called the Model 33 Bonanza) is a single engine, low wing cabin monoplane with retractable tricycle undercarriage and a conventional tail.
General Information
Despite large demand for the V-tailed Model 35, there were many potential buyers who considered this tail unit to be a gimmick that might present problems. To meet their needs, Beech introduced the Model 33 Debonair, following a first flight on 14 September 1959. With a conventional tail unit, and with a slightly lower-powered engine, the Debonair seated a pilot and three passengers. It represented a lower-cost version of the Bonanza, and was built and marketed in parallel until production of the Debonair, as such, ended in 1966, by when almost 1,200 had been built.
The Model 33 Debonair was produced in four-seat versions with a 225-hp Continental, six-cylinder engine. It had a simplified interior and less elaborate equipment than the Model 35. In 1961, the aileron and elevator trim tabs were improved; larger rear windows and a restyled cabin interior with bucket seats were featured.
Offered by Beechcraft in 1964 for European sale was a Debonair beefed up with a stronger empennage, horizontal stabiliser, rudder cables and vertical stabiliser to meet British requirements for a three-turn spin.
In 1966, the option of a 285-hp powerplant was added.
In 1967, the Debonair name was dropped and the subsequent aircraft, now a part of the Bonanza family, were simply designated E33, F33 and G33. During these years all model numbers ending in "A" featured the 285-hp Continental. All others retained the 225-hp engine.
For more details, click here.
The specifications below are for the 1963 Debonair B33.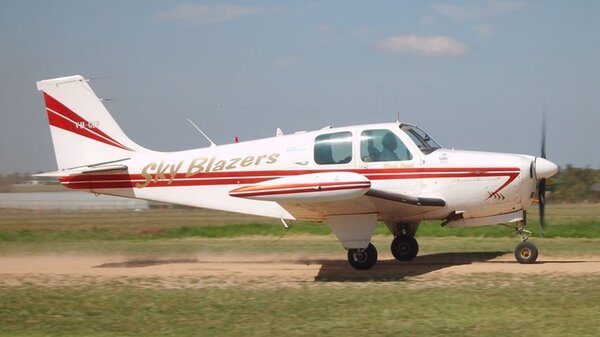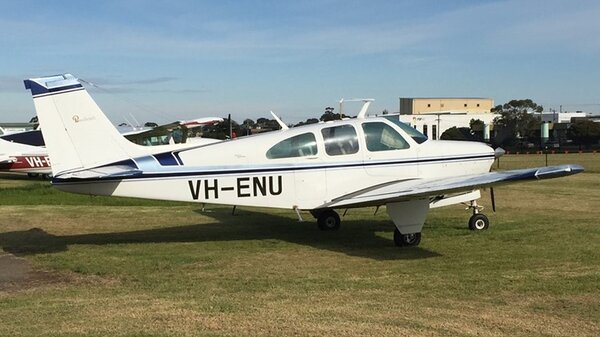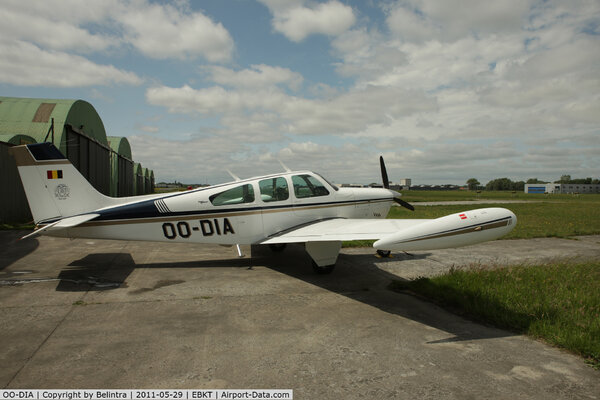 Specifications
Seats:

4
Length:

25 ft. 6 in
Wingspan:

32 ft. 10 in.
Height:

8 ft. 3 in.
Wing Area:

177.5 sq. ft
Wing Loading:

16.9 lb/sq. ft
Empty Weight:

1745lb
MTOW:

Gross weight: 3000 lb
Fuel Capacity:

74US gal usable
Powerplant:

1 x Continental IO-470-K, 225 hp
Cruise Speed:

6,500 ft 75% pwr: 161 kts
Stall Speed:

(flaps up): 62kt; (flaps down): 52kt
Range:

(w/ res) 55% power: 991 nm
Takeoff Dist.:

over 50 ft. obstacle: 1288 ft
Landing Dist.:

over 50 ft. obstacle: 1298 ft
Rate of Climb:

SL: 960 fpm
Service Ceiling:

18,400 ft