Description
The Lockheed Hudson was an American-built light bomber and coastal reconnaissance aircraft built initially for the Royal Air Force shortly before the outbreak of the Second World War. It also operated with RAAF and RCAF.
General Information
The Hudson was a military conversion of the Lockheed Model 14 Super Electra airliner, and was the first significant aircraft construction contract for the Lockheed Aircraft Corporation—the initial RAF order for 200 Hudsons far surpassed any previous order the company had received.The Hudson served throughout the war, mainly with Coastal Command but also in transport and training roles as well as delivering agents into occupied France. They were also used extensively with the Royal Canadian Air Force's anti-submarine squadrons and by the Royal Australian Air Force.
Postwar, numbers of Hudsons were sold by the military for civil operation as airliners and survey aircraft. In Australia, East-West Airlines of Tamworth, New South Wales (NSW), operated four Hudsons on scheduled services from Tamworth to many towns in NSW and Queensland between 1950 and 1955. Adastra Aerial Surveys based at Sydney's Mascot Airport operated seven L-414s between 1950 and 1972 on air taxi, survey and photographic flights.
A total of 2,941 Hudsons were built.
Hudsons in RAAF service.
In the Pacific area, Hudsons served with Nos 1, 2, 6, 7, 8, 13, 14, 23, 24, 25, 32 and 38 Squadrons, while RAF-serialled Hudsons operated with No 459 RAAF Squadron in the Middle East.
RAAF Hudsons included Mks I, II, III and IV. Mks I and II had different airscrews, and the Mk I carried a spinner. Mk IIIs were fitted with 1200 hp Wright Cyclones, and carried an additional ventral gun and two beam guns; Mk IVs were fitted with 1050 hp Pratt and Whitney Wasps. One all-silver Hudson, A16-142, was conspicuous during the war years, and another, A16-214, was used for airborne lifeboat experiments.
Hudson A16-112 – Hudson IV, is the only airworthy Hudson in the world, and is located at the Temora Aviation Museum in Temora, New South Wales. It is painted as a Hudson III, serial number A16-211, with the nose art The Tojo Busters.
Specifications below are for a Hudson Mk I.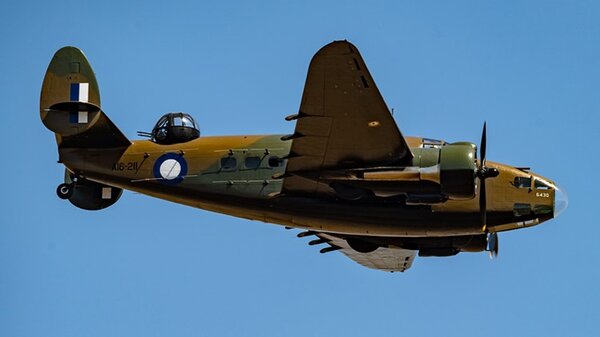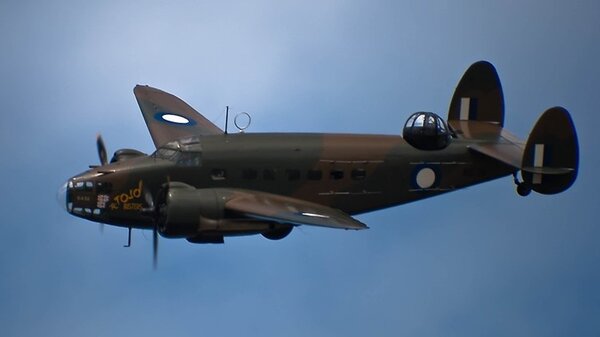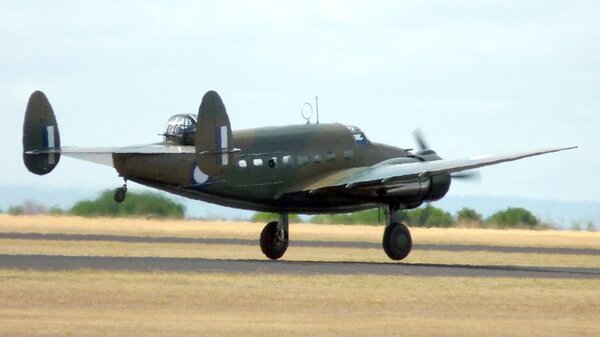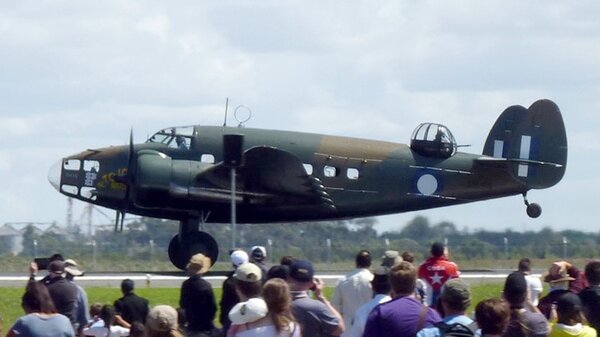 Specifications
Seats:

Crew: Five
Length:

44 ft 4 in (13.51 m)
Wingspan:

65 ft 6 in (19.96 m)
Height:

11 ft 10 in (3.61 m)
Wing Area:

551 sq ft (51.2 sq m)
Empty Weight:

11,630 lb (5,275 kg)
MTOW:

Gross weight: 17,500 lb (7,938 kg)
Powerplant:

2 × Wright GR-1820-G102A Cyclone 9-cylinder radial engines, 1,100 hp (820 kW) each
Vne:

Maximum speed: 246 mph (396 km/h, 214 kn) at 6,500 ft (2,000 m)
Cruise Speed:

220 mph (350 km/h, 190 kn)
Range:

1,960 mi (3,150 km, 1,700 nmi)
Rate of Climb:

2,180 ft/min (11.1 m/s)
Service Ceiling:

25,000 ft (7,600 m)