Description
The North American Aviation T-6 Texan is an American single-engined advanced trainer aircraft.
General Information
Designed by North American Aviation, the T-6 is known by a variety of designations depending on the model and operating air force. The United States Army Air Corps (USAAC) and USAAF designated it as the AT-6, the United States Navy the SNJ, and British Commonwealth air forces the Harvard, the name by which it is best known outside the US. Starting in 1948, the new United States Air Force (USAF) designated it the T-6, with the USN following in 1962. It remains a popular warbird aircraft used for airshow demonstrations and static displays. It has also been used many times to simulate various Japanese aircraft, including the Mitsubishi A6M Zero, in movies depicting World War II in the Pacific. A total of 15,495 T-6s of all variants were built.
The first model went into production and 180 were supplied to the USAAC as the BC-1 and 400 to the RAF as the Harvard I. The US Navy received 16 modified aircraft, designated the SNJ-1, and a further 61 as the SNJ-2 with a different engine.
For more information, click here. There are so many variants, they warranted their own Wikipedia page here.
The specifications below are for the T-6G variant.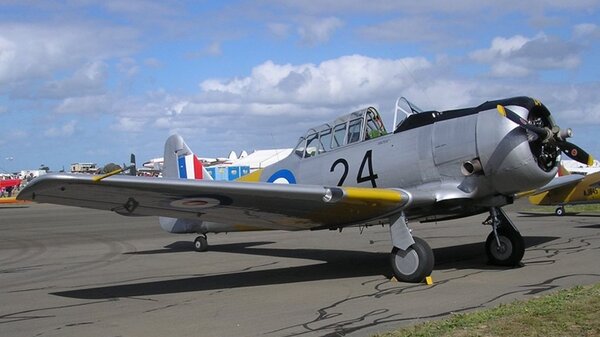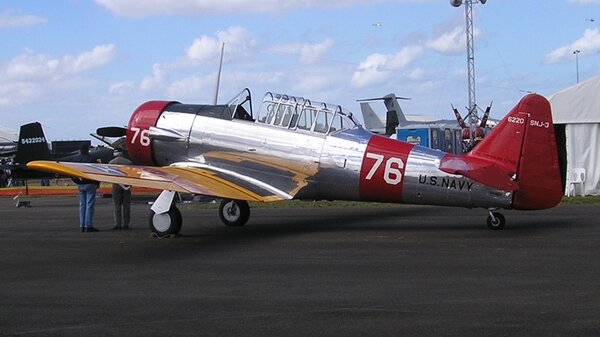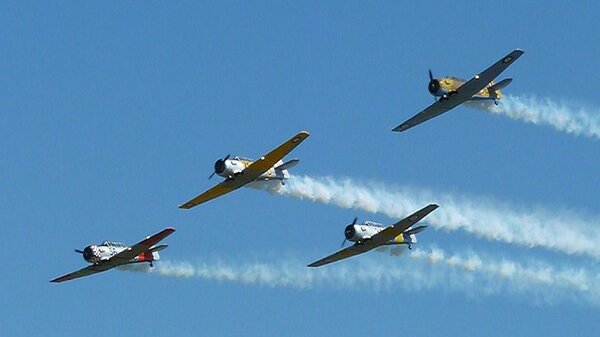 Specifications
Seats:

Two (student and instructor)
Length:

29 ft 0 in (8.84 m)
Wingspan:

42 ft 0 in (12.81 m)
Height:

11 ft 8 in (3.57 m)
Wing Area:

253.7 sq ft (23.6 sq m)
Wing Loading:

22.2 lb/sq ft (108 kg/sq m)
Empty Weight:

4,158 lb (1,886 kg)
MTOW:

Gross weight: 5,617 lb (2,548 kg)
Powerplant:

1 × Pratt & Whitney R-1340-AN-1 Wasp radial engine, 600 hp (450 kW)
Vne:

Maximum speed: 208 mph (335 km/h, 181 kn) at 5,000 ft (1,500 m)
Cruise Speed:

145 mph (233 km/h, 126 kn)
Range:

730 mi (1,175 km, 630 nmi)
Rate of Climb:

1,200 ft/min (6.1 m/s)
Service Ceiling:

24,200 ft (7,400 m)