Description
The Airbus A340 is a four engined, long-range, wide-body commercial passenger jet airliner that was developed and produced by the European aerospace company Airbus.
General Information
In the mid-1970s, Airbus conceived several derivatives of the A300, its first airliner, and developed the A340 quadjet in parallel with the A330 twinjet.
Keeping the eight-abreast economy cross-section of the A300, the early A340-200/300 has a similar airframe to the A330. Differences include four 151 kN (34,000 lbf) CFM56s instead of two high-thrust turbofans to bypass ETOPS restrictions on trans-oceanic routes, and a three-leg main landing gear instead of two for a heavier 276 t (608,000 lb) MTOW. Both airliners have fly-by-wire controls, which was first introduced on the A320, as well as a similar glass cockpit. The later A340-500/600 have a larger wing and are powered by 275 kN (62,000 lbf) Rolls-Royce Trent 500 for a heavier 380 t (840,000 lb) MTOW.
The shortest A340-200 measured 59.4 m (195 ft), and could cover 12,400 km / 6,700 nmi with 210-250 seats in 3-class. The most common A340-300 reached 63.7 m (209 ft) to accommodate 250-290 passengers and had a 13,500 km / 7,300 nmi range. The A340-500 was 67.9 m (223 ft) long to seat 270-310 over 16,670 km / 9,000 nmi, the longest-range airliner at the time. The longest A340-600 was stretched to 75.4 m (247 ft), then the longest airliner, to accommodate 320-370 passengers over 14,450 km / 7,800 nmi.
Formore details on the design, development, production, history and variants, click here.
The specifications below are for the 340-300 model.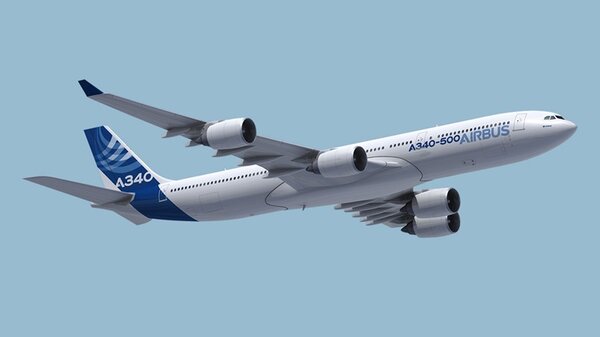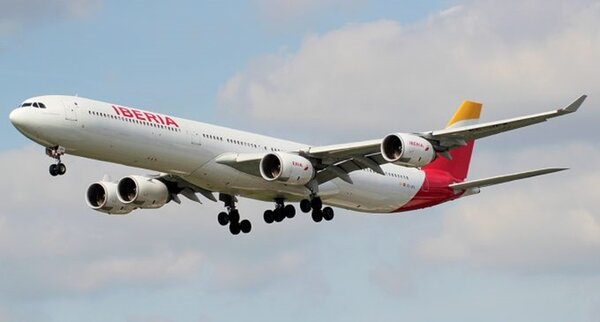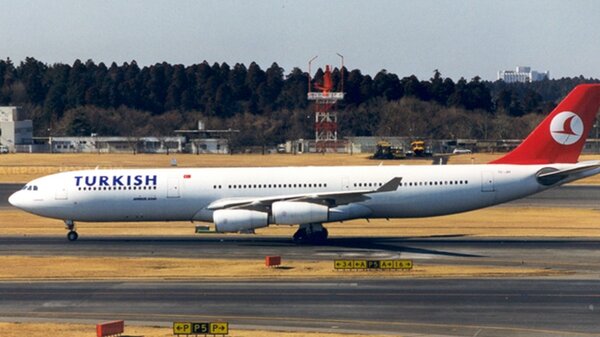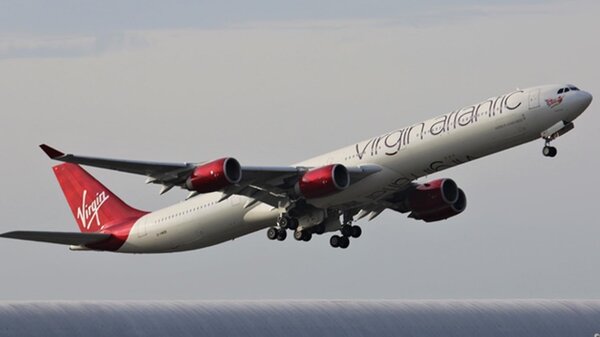 Specifications
Seats:

Cocvkpit crew 2, 3-class seating 250-290, typical layout 335 (30F + 305Y)
Length:

63.69 m / 208.96 ft
Wingspan:

60.3 m / 197.83 ft
Height:

16.99 m / 55.72 ft
Wing Area:

363.1 sq m (3,908 sq ft)
Empty Weight:

131 t (289,000 lb)
MTOW:

276.5 t (610,000 lb)
Fuel Capacity:

110.4 t / 243,395 lb
Powerplant:

4 x CFM International CFM56-5C thrust 138.78–151.24 kN (31,200–34,000 lbf)m
Vne:

Maximum Mach 0.86 (493 kn; 914 km/h)
Cruise Speed:

Mach 0.82 (470 kn; 871 km/h)
Range:

3-class 16,670 km / 9,000 nmi
Takeoff Dist.:

3,350 m (10,990 ft)
Service Ceiling:

41 450 ft (12 634m)