Description
The Airbus A350 XWB is a family of long-range, wide-body airliners developed by Airbus.
General Information
The first A350 design proposed by Airbus in 2004, in response to the Boeing 787 Dreamliner, would have been a development of the A330 with composite wings and new engines. As market support was inadequate, in 2006 Airbus switched to a clean-sheet "XWB" (eXtra Wide Body) design, powered by Rolls-Royce Trent XWB turbofan engines. The prototype first flew on 14 June 2013 from Toulouse in France. Type certification from the European Aviation Safety Agency (EASA) was received in September 2014 and certification from the Federal Aviation Administration (FAA) two months later.
The A350 XWB is the first Airbus mostly made of carbon fibre reinforced polymer. It has a new fuselage designed around a nine-abreast economy cross-section, up from the eight-abreast A330/A340. It has a common type rating with the A330. The A350 XWB has two variants: The A350-900 typically carries 300 to 350 passengers over a 15,000 kilometres (8,100 nautical miles) range and has a 280-ton (617,300-pound) maximum take-off weight (MTOW); the longer A350-1000 accommodates 350 to 410 passengers, has a maximum range of 16,100 km (8,700 nmi) and a 319 t (703,200 lb) MTOW, and is supported by two 6-wheel main landing gear trucks (the -900 has four).
On 15 January 2015, the initial A350-900 entered service with its launch operator Qatar Airways, followed by the A350-1000 on 24 February 2018 with the same airline. As of December 2019, A350 XWB orders stand at 926 of which 347 have been delivered and 312 are in operation. The largest operator is the airliner's launch customer, Qatar Airways, with 48 A350 XWBs in its fleet.It succeeds the A340 and is positioned to compete against the Boeing 777, 777X, and 787-10.
For the rest of the A350 XWB story, click here.
Qantas and Project Sunrise
Qantas will delay the purchase of Airbus A350-1000 jets for non-stop Project Sunrise flights to London and New York, pushing back its final decision until the end of 2020, as the airline moves into 'survival mode' to deal with the devastating economic impact of the coronavirus pandemic.
The airline had previously been working to an Airbus-imposed deadline of March 31 to sign on the dotted line, which in turn hinged upon issues of how the new jets would be crewed, with Qantas in negotiations with its pilots but also flagging the willingness to hire new pilots dedicated to the Sunrise fleet.
Earlier this month, as Covid-19 flared across the globe, Qantas Group CEO Alan Joyce confirmed that he had asked Airbus for an extended deadline.
To read more about Project Sunrise, click here.
The specifications below are for the A350-1000 model.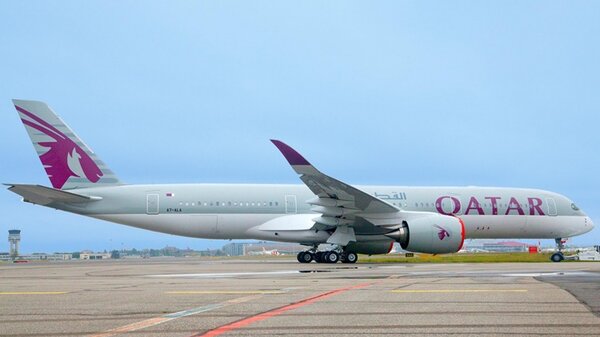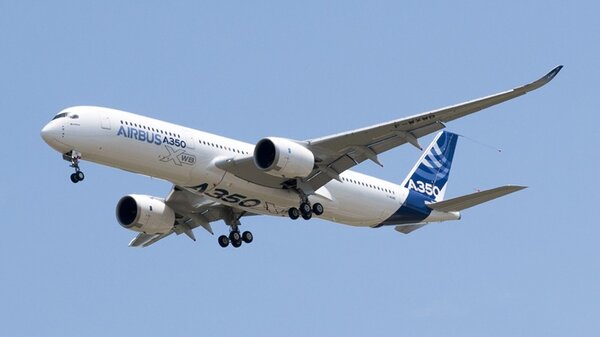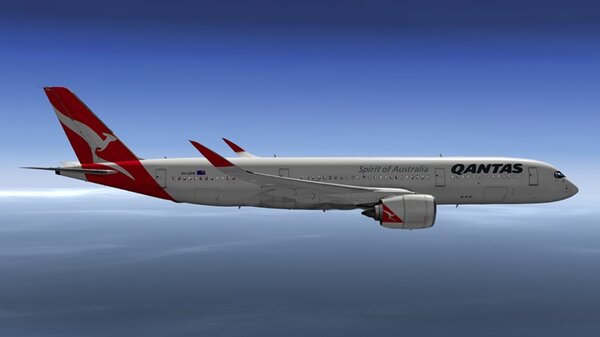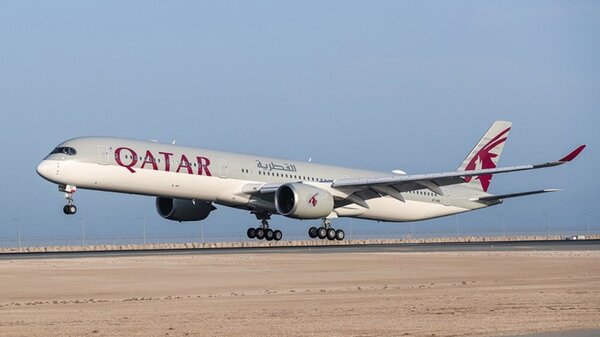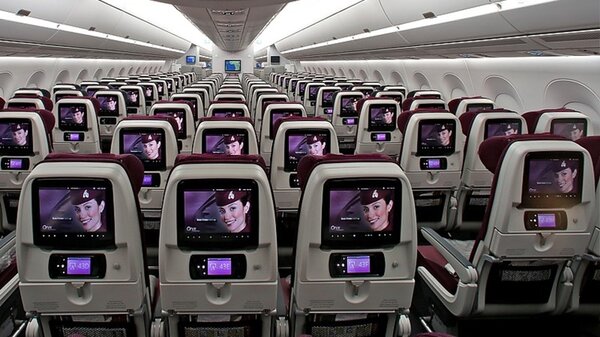 Specifications
Seats:

Cockpit crew 2, seating 369 (54J+315Y) Max limit 480
Length:

73.79 m / 242.1 ft
Wingspan:

64.75 m / 212.43 ft
Height:

17.08 m / 56 ft 0 in
Wing Area:

464.3 sq m (4,998 sq ft)
Empty Weight:

155 t (342,000 lb) 155 t (342,000 lb) dry
MTOW:

316 t / 696,661 lb
Fuel Capacity:

158,791 L (41,948 US gal) 124,651 kg (274,808 lb)
Powerplant:

2 x Rolls-Royce Trent XWB 97,000 lbf / 431.5 kN thrust
Cruise Speed:

Mach 0.85 (488 kn; 903 km/h) Typical, Mach 0.89 (513 kn; 950 km/h) Maximum[
Range:

16,100 km (8,700 nmi)
Service Ceiling:

41,450 ft (12,630 m)