Description
The Douglas DC-4 is a four-engine (piston) propeller-driven airliner developed by the Douglas Aircraft Company.
General Information
Military versions of the plane, the C-54 and R5D, served during World War II, in the Berlin Airlift and into the 1960s. From 1945, many civil airlines operated the DC-4 worldwide.
The DC-4/C-54 proved a popular and reliable type, 1245 being built between May 1942 and August 1947, including 79 postwar DC-4s. Several remain in service as of 2014. One current operator is Buffalo Airways of Yellowknife, Northwest Territories.
British company Aviation Traders converted a number of DC-4's as a cargo and car ferry with a modified nose with a raised cockpit to allow cars to be loaded more easily. It was called the Carvair.
For more history of the DC-4/C-54, click here.
Aviation Traders Carvair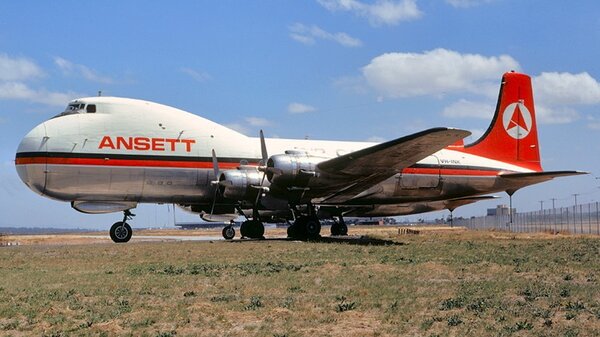 Specifications
Seats:

Crew: 4 Capacity: day transport: 44 pax with baggage and freight, later, up to 86 in high density seating
Length:

93 ft 10 in (28.60 m)
Wingspan:

117 ft 6 in (35.81 m)
Height:

27 ft 6 in (8.38 m)
Wing Area:

1,460 sq ft (136 sq m)
Wing Loading:

50.1 lb/sq ft (245 kg/sq m) at maximum gross weight
Empty Weight:

43,300 lb (19,641 kg)
MTOW:

73,000 lb (33,112 kg), Gross weight: 63,500 lb (28,803 kg)
Fuel Capacity:

2,868 US gal (2,388 imp gal; 10,860 l) normal capacity or 3,592 US gal (2,991 imp gal; 13,600 l) with alternative inner wing tanks
Powerplant:

4 × Pratt & Whitney R-2000-2SD13-G Twin Wasp 14-cylinder air-cooled radial piston engines, 1,450 hp (1,080 kW) each for take-off 1,100 hp (820 kW) at 14,000 ft (4,300 m)
Vne:

Maximum speed: 280 mph (450 km/h, 240 kn) at 14,000 ft (4,300 m)
Cruise Speed:

227 mph (365 km/h, 197 kn) 60% power at 10,000 ft (3,000 m) Maximum cruise speed 246 mph (214 kn; 396 km/h) in high blower at 20,800 ft (6,300 m)
Range:

3,300 mi (5,300 km, 2,900 nmi) at 10% above max L/D speed, Ferry range: 4,250 mi (6,840 km, 3,690 nmi) with inner wing fuel cells