Description
The Irkut MC-21 (Russian: Иркут МС-21) is a Russian single-aisle twinjet airliner, developed by the Yakovlev Design Bureau and produced by its parent Irkut, a branch of the United Aircraft Corporation (UAC).
General Information
The initial design started in 2006 and detailed design was ongoing in 2011. After delaying the scheduled introduction from 2012 to 2020, Irkut rolled out the first MC-21-300 on 8 June 2016 and first flew the aircraft on 28 May 2017. It has a carbon fibre reinforced polymer wing and is powered by Pratt & Whitney PW1000G or Aviadvigatel PD-14 turbofans. The standard MC-21-300 has a capacity of 132–163 passengers in a two-class configuration and 165–211 in a single class, and a range up to 6,000–6,400 km (3,200–3,500 nmi). It will be followed by a shortened MC-21-200 version. By July 2018, it had received 175 firm orders and recorded nearly 150 intentions.
In Russian: МС‑21 "Магистральный Самолёт 21 века" – "Magistralny Samolyot 21 veka" translates as "mainline aircraft of the 21st century".[9] It is marketed in the West as the MC-21, despite the aircraft's original Russian model name being МС-21, which transliterates as MS-21.
The fuselage of the MC-21 is mostly made of lightweight aluminium–lithium alloy, which accounts for 40% of the airframe's structural weight.[57] It is 11 cm (4.3 in) wider than the A320/C919 and 27 cm (11 in) wider than the 737, for a 61 cm (24 in) aisle allowing passing others or a trolley. Its 79.25 t (174,700 lb) MTOW is the same as the almost 5 m (16.5 ft.) shorter A320neo, and is 3 t (6,600 lb) lighter than the almost 3 m (9.8 ft) shorter 737-8, for similar two-class layouts of 162 to 165 while the 737-8 and A320neo have 200 nmi (370 km) more range. The MC-21 is a low-wing cantilever monoplane with a composite structure, a tricycle landing gear, powered by two wing-mounted turbofan engines and with a 3.81 m (150 in) wide cabin.
In 2013, Russian deputy premier Dmitry Rogozin indicated that it will be designated Yak-242 once it enters serial production, the name of a 1990s proposal of an aircraft of similar size. In 2014, Oleg Demchenko, the president of Irkut at the time, also preferred the Yak-242 name, claiming it would better reflect the design bureau behind the aircraft, however he has also said that any of these renaming decisions would be after the aircraft first flight and certification work.
For details of the design, development and variants, click here.
Specifications below are for the standard MC-21 300 model.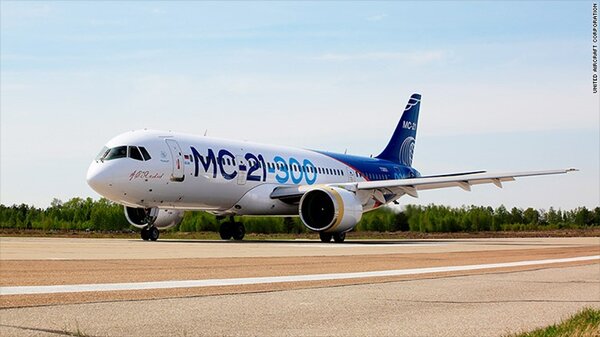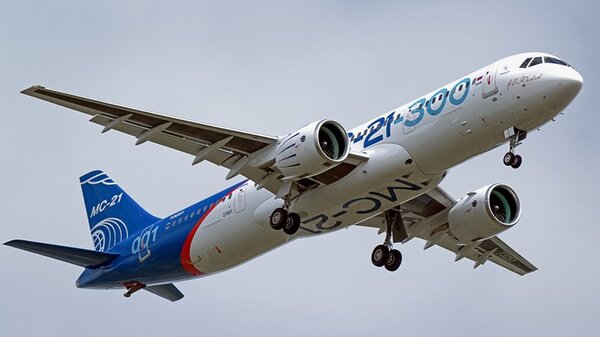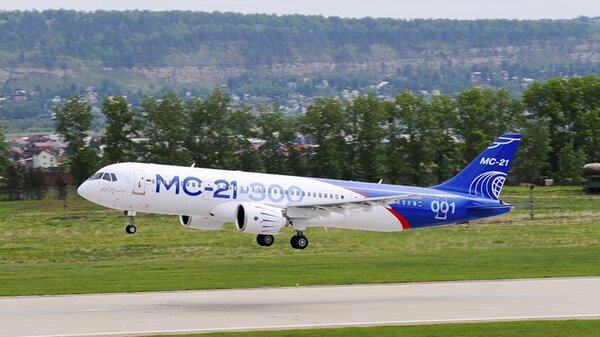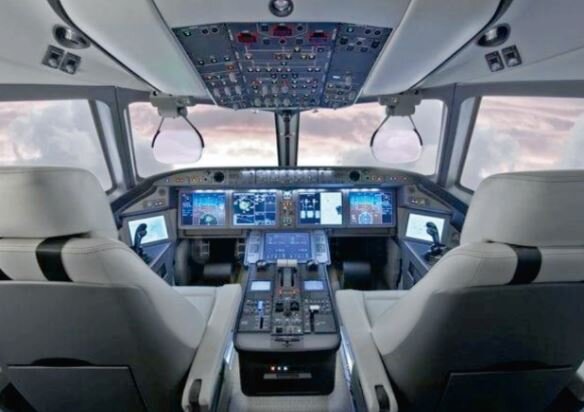 Specifications
Seats:

Cockpit crew 2, 2-class seats 163 (16J + 147Y), 1-class seats 211 @ 29–28"
Length:

42.2 m (138 ft)
Wingspan:

35.9 m (118 ft)
Height:

11.5 m (38 ft)
MTOW:

79,250 kg (174,720 lb)
Fuel Capacity:

20,400 kg (45,000 lb)
Powerplant:

2 x Aviadvigatel PD-14 / Pratt & Whitney PW1400G, PW1431G: 31,000 lbf (140 kN) t hrust (each)
Range:

6,000 km (3,200 nmi)