Description
The Victa Airtourer is an all-metal light low-wing monoplane touring aircraft that was developed in Australia, and was manufactured in both Australia and New Zealand
General Information
The Airtourer design is of cantilever low-wing monoplane configuration, with a fixed tricycle landing gear. It has interconnected ailerons and flaps, with both systems functioning as both ailerons and as flaps when operated. The nosewheel was steerable. Space was available for luggage (45 kg weight limit).
The prototype was demonstrated to aero clubs and flying schools as a possible replacement for existing training aircraft, mostly Tiger Moths and Chipmunks. After trial flights over Melbourne and then to the Latrobe Valley Airport development continued to the all-metal version. The all-metal prototype to production standard (VH-MVA) followed on 12 December 1961.
During the period 1961 to 1966, Victa Ltd. undertook production of the all-metal Airtourer, building both 100 hp and 115 hp models. Victa production continued until 1966.
As the Australian Government had rejected Victa's appeals for tariff protection assistance, or for direct subsidies to keep the production lines open, the company chose to suspend production of the Airtourer in February 1966, by which time it had built 172 Airtourers. While the Aviation division initially remained open to spares support for existing aircraft and to continue development of the four-seat Aircruiser, the division was completely shut down on 20 January 1967.
The manufacturing rights to the Airtourer were purchased the following year by the maintenance firm Aero Engine Services Ltd (AESL) in New Zealand where further production of 115 hp and 150 hp models took place until 1973.
Henry Millicer had designed the Victa Aircruiser, a four-seater derivative design, powered by a 210 hp Continental O-360 engine, which was certificated in 1967. AESL acquired the rights to the design in 1970 and it was used to form the basis of the CT/4 Airtrainer.
A total of 168 were completed or significantly completed by Victa in Sydney and a further 80 built by AESL in Hamilton NZ. Actually it would be correct to say that 170 serial numbers were issued by Victa and 80 by AESL.
AESL delivery pilot Cliff Tait used an Airtourer, ZK-CXU Miss Jacy, for a record breaking flight, circumnavigating the globe between May and August 1969 and covering 53,097 km in 288 flying hours. Miss Jacy is now on display at the MOTAT museum in Auckland.
Victa Airtourer
AESL Airtourer
AESL CT4 Trainer
Victa Aircruiser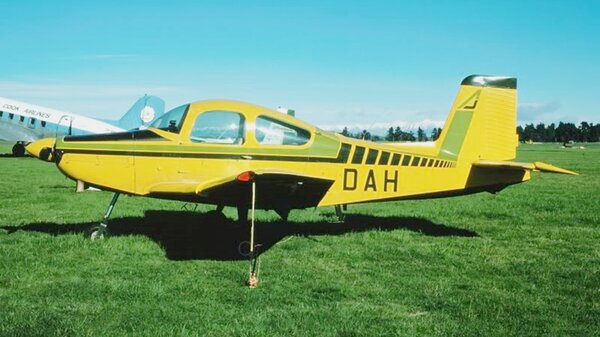 Specifications
Seats:

2 side by side
Length:

6.55 m (21 ft 6 in)
Wingspan:

7.92 m (26 ft 0 in)
Height:

2.13 m (7 ft 0 in)
Wing Area:

11.15 sq m (120.0 sq ft)
Empty Weight:

490 kg (1,080 lb)
MTOW:

Gross weight: 748 kg (1,649 lb)
Fuel Capacity:

132 L (35 US gal; 29 imp gal)
Powerplant:

1 × Lycoming O-235-C1B air-cooled flat four piston engine, 86 kW (115 hp)
Vne:

Maximum speed: 230 km/h (140 mph, 120 kn) at 1,220 m (4,000 ft)
Cruise Speed:

200 km/h (120 mph, 110 kn) at 1,500 metres (5,000 ft), (econ cruise, 65% power)
Stall Speed:

85 km/h (53 mph, 46 kn)
Range:

1,140 km (710 mi, 620 nmi)
Takeoff Dist.:

to 15 m (50 ft): 380 m (1,250 ft)
Landing Dist.:

from 15 m (50 ft): 370 m (1,200 ft)
Rate of Climb:

4.6 m/s (900 ft/min)
Service Ceiling:

4,300 m (14,000 ft)