Description
The Antonov An-2 (NATO reporting name Colt) is a Soviet mass-produced single-engine biplane utility/agricultural aircraft .
General Information
The An-2 (Russian nickname: "Annushka" or "Annie"; "kukuruznik") was designed and manufactured by the Antonov Design Bureau beginning in 1946.Its remarkable durability, high lifting power, and ability to take off and land from poor runways have given it a long service life. The An-2 was produced up to 2001 and remains in service with military and civilian operators around the world.
The An-2 was designed as a utility aircraft for use in forestry and agriculture. However, the basic airframe is highly adaptable and numerous variants of the type have been developed; these include hopper-equipped versions for crop-dusting, scientific versions for atmospheric sampling, water-bombers for fighting forest-fires, flying ambulances, float-equipped seaplane versions and lightly armed combat versions for dropping paratroops. The most common version is the An-2T 12-seater passenger aircraft. All versions (other than the An-3 and the An-2-100) are powered by a 750 kW (1,010 hp) nine-cylinder Shvetsov ASh-62 radial engine, which was developed from the Wright R-1820. The An-2 typically consumes 2.5 l/min (0.66 US gal/min; 0.55 imp gal/min).
For details of development, design and the numerous variants, click here.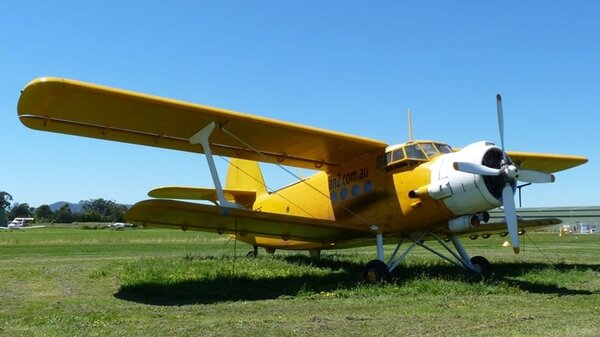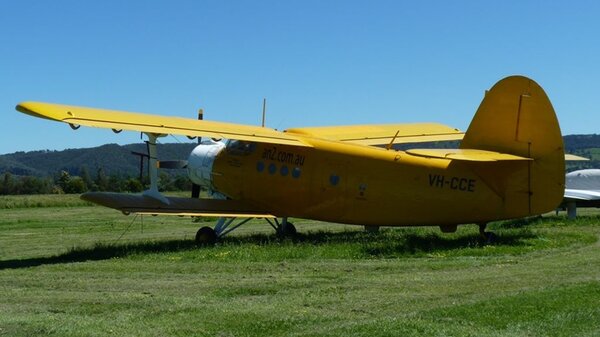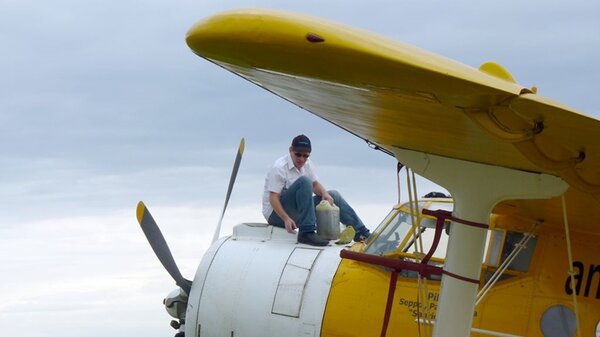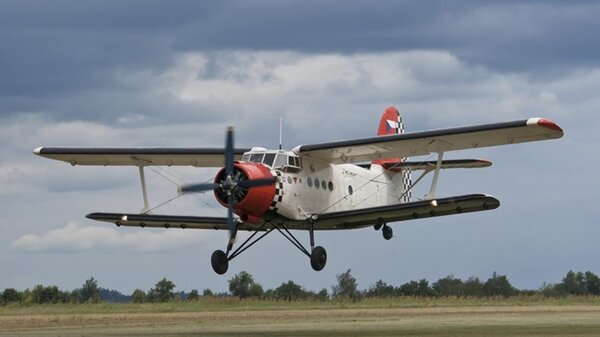 Specifications
Seats:

Crew: 1–2 Capacity: 12 passengers / 2,140 kg (4,718 lb)
Length:

12.4 m (40 ft 8 in)
Wingspan:

Upper wingspan: 18.2 m (59 ft 9 in) Lower wingspan: 14.2 m (46 ft 7 in)
Height:

4.1 m (13 ft 5 in)
Wing Area:

71.52 sq m (769.8 sq ft)
Empty Weight:

3,300 kg (7,275 lb)
MTOW:

Gross weight: 5,440 kg (11,993 lb)
Fuel Capacity:

1,200 l (320 US gal; 260 imp gal)
Powerplant:

1 × Shvetsov ASh-62IR 9-cylinder air-cooled supercharge radial piston engine, 750 kW (1,010 hp)
Vne:

Maximum speed: 258 km/h (160 mph, 139 kn)
Cruise Speed:

190 km/h (120 mph, 100 kn)
Stall Speed:

50 km/h (31 mph, 27 kn) circa
Range:

845 km (525 mi, 456 nmi)
Rate of Climb:

3.5 m/s (690 ft/min)
Service Ceiling:

4,500 m (14,800 ft)