Description
The Beagle B.121 Pup is a 1960s British 2–4 seat single-engined training and touring aircraft built by Beagle Aircraft Limited at Shoreham Airport and Rearsby Aerodrome.
General Information
The Pup was designed as a single-engined all-metal two-seat aerobatic aircraft or a four-seat touring aircraft. The Pup was more spacious than its direct competitors and was more of a "pilot's aeroplane"; it was a more complex design to manufacture and was also corrosion proofed throughout (usually then only an option on US-built competitors). For these reasons it was correspondingly more expensive to build, yet was sold at a competitive price. Its maintenance requires more care (i.e. expense) and its early days were troubled by issues with the doors and spares availability.
Beagle Aircraft Ltd chose to build the Pup following a market survey which demonstrated a global requirement for a modern, all-metal 2–4 seat training/touring aircraft to replace aging Tiger Moths and Pipers used by flying clubs. American manufacturers were already fulfilling this demand with the Cessna 150 and 172 and the Piper Cherokee.
Variants.
Pup Series 1 (Pup 100)
Powered by a 100 hp (75 kW) Rolls-Royce Continental O-200A engine
Pup Series 2 (Pup 150)
Powered by a 150 hp (110 kW) Lycoming O-320-A2B engine
Pup Series 3 (Pup 160)
Powered by a 160 hp (120 kW) Lycoming O-320-D2C engine
Bulldog (Click here for separate profile)
Military training version, 2 prototypes only built by Beagle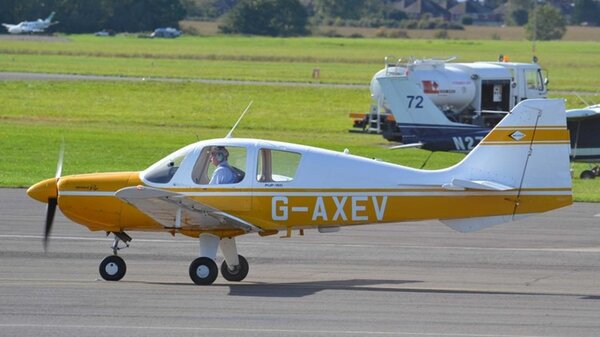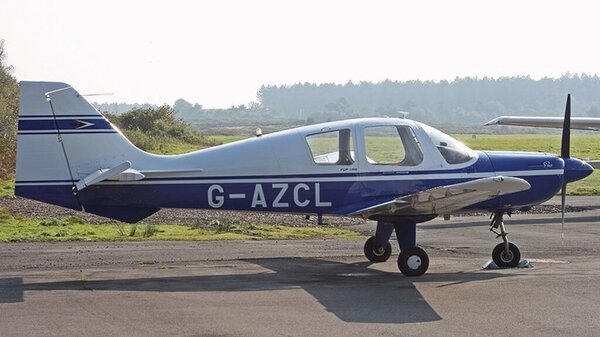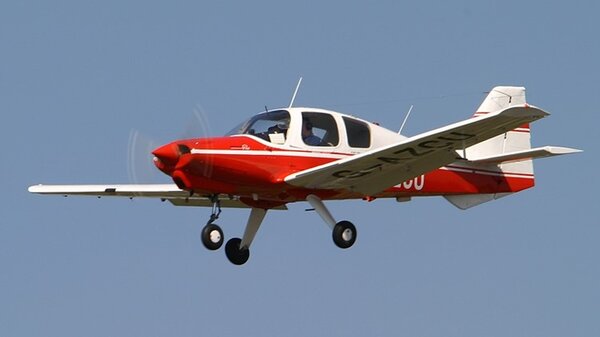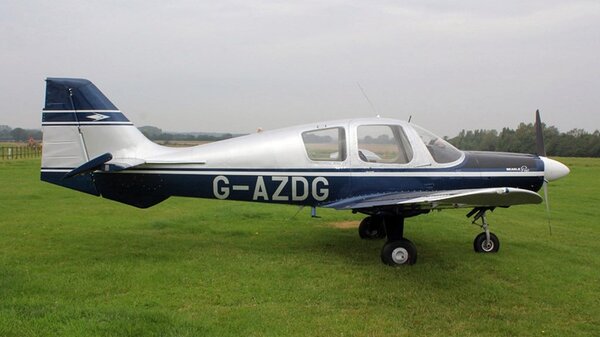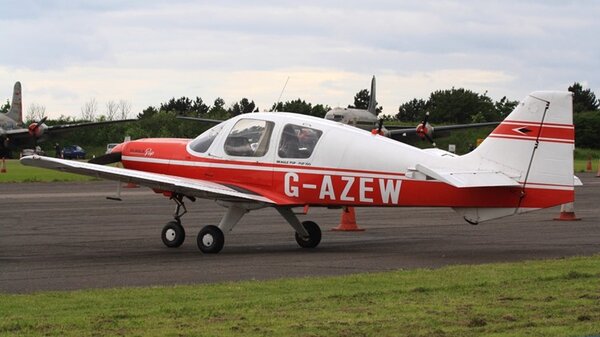 Specifications
Seats:

Crew: 1 Capacity: 2 passengers
Length:

23 ft 2 in (7.06 m)
Wingspan:

31 ft 0 in (9.45 m)
Height:

7 ft 6 in (2.29 m)
Wing Area:

119.5 sq ft (11.10 sq m)
Wing Loading:

16.1 lb/sq ft (79 kg/sq m)
Empty Weight:

1,090 lb (494 kg)
MTOW:

1,925 lb (873 kg)
Fuel Capacity:

24 imp gal (29 US gal; 110 L)
Powerplant:

1 × Lycoming O-320-A2B air-cooled flat-four, 150 hp (110 kW)
Vne:

195 mph (314 km/h, 169 kn), Maximum speed: 138 mph (222 km/h, 120 kn)
Cruise Speed:

115 mph (185 km/h, 100 kn) (econ cruise, 55% power)
Stall Speed:

56 mph (90 km/h, 49 kn) (flaps down)
Range:

440 mi (710 km, 380 nmi)
Takeoff Dist.:

to 50 ft (15 m): 1,480 feet (450 m)
Landing Dist.:

(from 50 ft (15 m): 1,410 ft (430 m)
Rate of Climb:

800 ft/min (4.1 m/s)
Service Ceiling:

14,700 ft (4,500 m)