Description
The Brditschka HB-207 Alfa, aka HB Flugtechnik HB-207 Alfa is an Austrian two-seat light training and touring monoplane designed and built by HB Flugtechnik and was made available as a kit for homebuilding.
General Information
The Alfa is a low-wing monoplane made from aluminium, with some composite parts, powered by a 110 hp (82 kW) VW-Porsche HB-2400 G/2 flat-four engine driving a five-bladed variable-pitch propeller. It was designed to take a number of different engines and to use two, three or five-bladed propellers. The five-bladed propeller turns at just 1500 rpm and is noted for its quietness in flight, producing only 57 dBA. The 100 hp (75 kW) Rotax 912ULS and the turbocharged 115 hp (86 kW) Rotax 914 powerplants can also be used. The Alfa has room for two in side-by-side seats in an enclosed cockpit with a sliding canopy for entry.
The first aircraft to fly was a retractable tricycle landing gear variant, the HB-207RG. on 14 March 1995.
Fixed gear, three blade
Fixed gear, five blade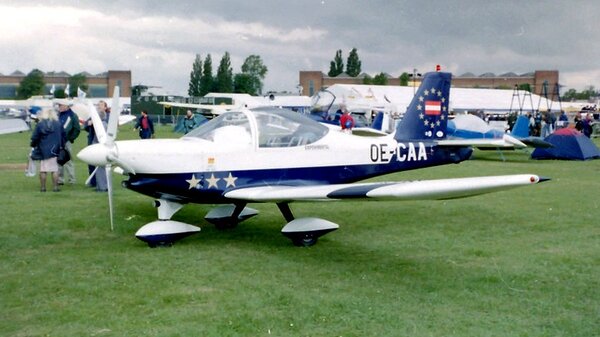 Retractable, three blade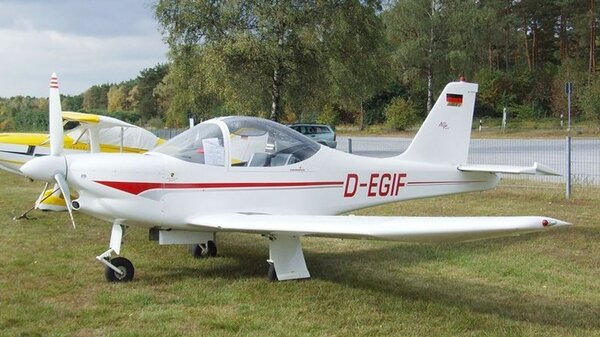 Retractable, five bladed
Specifications
Seats:

2 side by side
Length:

5.95 m (19 ft 6¼ in)
Wingspan:

9.00 m (29 ft 6¼ in)
Height:

1.95 m (6 ft 4¼¼ in)
Wing Area:

9.50 sq m (102.3 sq ft)
Empty Weight:

450 kg (992 lb)
MTOW:

Gross weight: 640 kg (1411 lb)
Powerplant:

1 × VW-Porsche HB-2400 G/2 flat-four piston, 82 kW (110 hp)
Vne:

Maximum speed: 309 km/h (192 mph)
Cruise Speed:

245 km/h (152 mph)
Stall Speed:

93 km/h (58 mph)
Range:

1200 km (754 miles)