Description
The Cessna 172 Skyhawk is an American four-seat, single-engine, high wing, fixed-wing aircraft made by the Cessna Aircraft Company.
General Information
First flown in 1955, more 172s have been built than any other aircraft. Measured by its longevity and popularity, the Cessna 172 is the most successful aircraft in history. Cessna delivered the first production model in 1956, and as of 2015, the company and its partners had built more than 44,000 units. The aircraft remains in production today.
The Cessna 172 started life as a tricycle landing gear variant of the taildragger Cessna 170, with a basic level of standard equipment. In January 1955, Cessna flew an improved variant of the Cessna 170, a Continental O-300-A-powered Cessna 170C with larger elevators and a more angular tailfin.[10] Although the variant was tested and certified, Cessna decided to modify it with a tricycle landing gear, and the modified Cessna 170C flew again on June 12, 1955.[10] To reduce the time and cost of certification, the type was added to the Cessna 170 type certificate as the Model 172.[10] Later, the 172 was given its own type certificate.[11][12] The 172 became an overnight sales success, and over 1,400 were built in 1956, its first full year of production.[13]
Early 172s were similar in appearance to the 170s, with the same straight aft fuselage and tall landing gear legs, although the 172 had a straight tailfin while the 170 had a rounded fin and rudder. In 1960, the 172A incorporated revised landing gear and the swept-back tailfin, which is still in use today.
The final aesthetic development, found in the 1963 172D and all later 172 models, was a lowered rear deck allowing an aft window. Cessna advertised this added rear visibility as "Omni-Vision."
Production halted in the mid-1980s, but resumed in 1996 with the 160 hp (120 kW) Cessna 172R Skyhawk. Cessna supplemented this in 1998 with the 180 hp (135 kW) Cessna 172S Skyhawk SP.
For details of the long list of models and variants, click here.
The specifications below are for the 172R model.
1960 Cessna 172A
Cessna 172 H,N,P
Cessna 172S
Cessna 172 RG Cutlass retractable.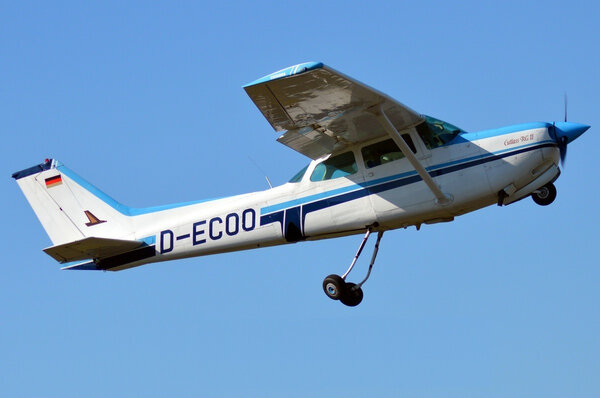 Specifications
Seats:

Crew: one Capacity: three passengers
Length:

27 ft 2 in (8.28 m)
Wingspan:

36 ft 1 in (11.00 m)
Height:

8 ft 11 in (2.72 m)
Wing Area:

174 sq ft (16.2 sq m)
Wing Loading:

14.1 lb/sq ft (68.6 kg/sq m)
Empty Weight:

1,691 lb (767 kg)
MTOW:

Gross weight: 2,450 lb (1,111 kg)
Fuel Capacity:

56 US gallons (212 litres)
Powerplant:

1 × Lycoming IO-360-L2A four cylinder, horizontally opposed aircraft engine, 160 hp (120 kW)
Vne:

163 kn (188 mph, 302 km/h) (IAS)
Cruise Speed:

122 kn (140 mph, 226 km/h)
Stall Speed:

47 kn (54 mph, 87 km/h) (power off, flaps down)
Range:

696 nmi (801 mi, 1,289 km) with 45 minute reserve, 55% power, at 12,000 ft
Takeoff Dist.:

1,630 ft (497 m); Ground Roll 960 ft (293 m)
Landing Dist.:

1,335 ft (407 m); Ground Roll 575 ft (175 m)
Rate of Climb:

721 ft/min (3.66 m/s)
Service Ceiling:

13,500 ft (4,100 m)