Description
The Cessna 210 Centurion is a six-seat, high-performance, retractable-gear, single-engine, high-wing general aviation aircraft which was first flown in January 1957 and produced by Cessna until 1986.
General Information
The early Cessna 210 (210 and 210A) had four seats with a Continental IO-470 engine of 260 hp (190 kW). It was essentially a Cessna 182B to which was added a retractable landing gear, swept tail, and a new wing. In 1961 the fuselage and wing were completely redesigned – the fuselage was made wider and deeper, and a third side window was added.
In 1967 the model 210G introduced a cantilever wing replacing the strut-braced wing. Its planform changed to a constant taper from root chord to tip chord. In 1970 the 210K became the first full six-seat model. This was achieved by replacing the flat leaf-springs used for the retractable main landing gear struts (undercarriage) with tapered tubular steel struts of greater length. This allowed the tires to be nested farther to the rear of the fuselage, making room for the full-size rear seats. In 1979 the 210N model eliminated the folding doors which previously covered the two retracted main wheels. Pressurised models can be identified by the four smaller side windows.
For more details of the design and development, as well as the vaiants, click here.
Specifications below are for the T210N Turbo Centurion II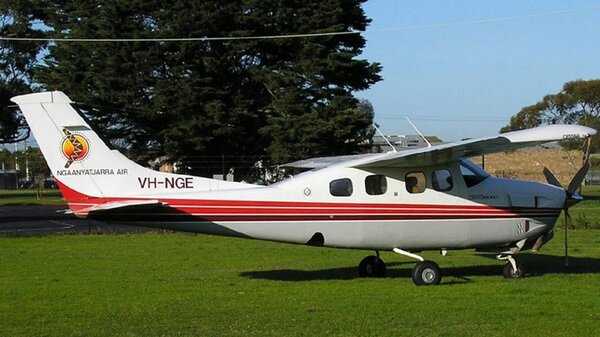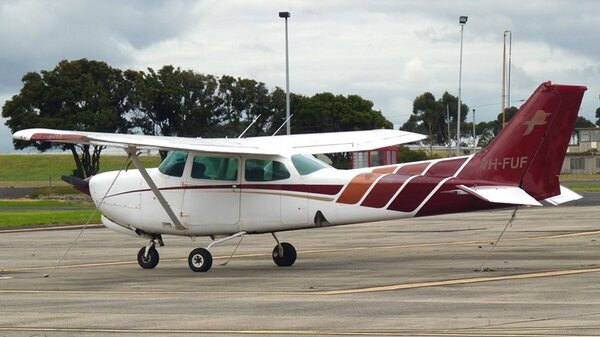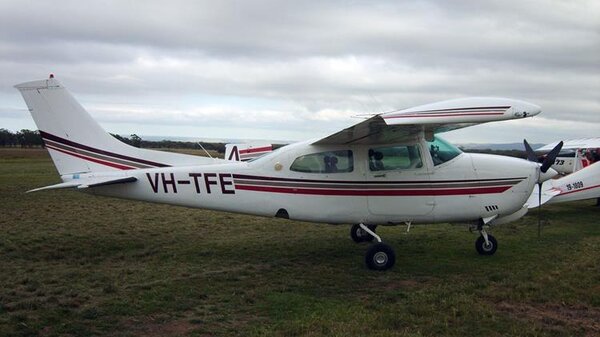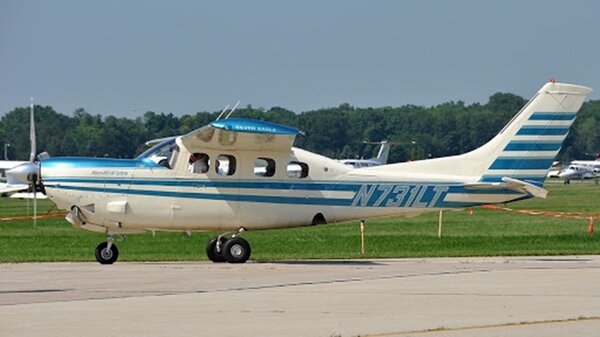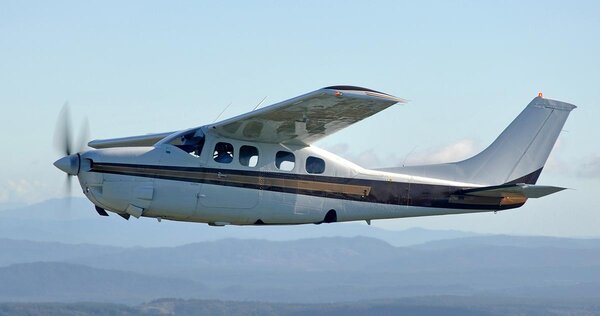 Specifications
Seats:

Crew: One Capacity: Five passengers
Length:

28 ft 2 in (8.59 m)
Wingspan:

36 ft 9 in (11.20 m)
Height:

9 ft 8 in (2.95 m)
Wing Area:

175 sq ft (16.3 sq m)
Empty Weight:

2,303 lb (1,045 kg)
MTOW:

Gross weight: 4,000 lb (1,814 kg)
Fuel Capacity:

87 US gal (72 imp gal; 330 L) (usable capacity)
Powerplant:

1 × Continental Motors TSIO-520-R air-cooled turbocharged flat-six, 310 hp (230 kW)
Vne:

Maximum speed: 204 kn (235 mph, 378 km/h) at 17,000 ft (5,200 m)
Cruise Speed:

193 kn (222 mph, 357 km/h) at 20,000 ft (6,100 m) (80% power)
Stall Speed:

58 kn (67 mph, 107 km/h) (power off, flaps down) (CAS)
Range:

900 nmi (1,000 mi, 1,700 km) at 10,000 ft (3,000 m) (econ cruise)
Takeoff Dist.:

to 50 ft (15m): 2,160 ft (660 m)
Landing Dist.:

from 50 ft (15 m): 1,500 ft (460 m)
Rate of Climb:

930 ft/min (4.7 m/s)
Service Ceiling:

27,000 ft (8,200 m)