Description
The Cirrus Vision SF50 (also known as the Vision Jet) is a single-engine very light jet designed and produced by Cirrus Aircraft of Duluth, Minnesota, United States.
General Information
The Vision SF50 is a low-wing cantilever monoplane powered by a single Williams FJ33-4A-19 turbofan, producing 1,900 lbf (8,500 N), mounted above the rear fuselage. It has a V-tail and retractable tricycle landing gear. The design is made entirely of composite material, a first for a production jet. The enclosed cabin is 5.1 ft (1.56 m) wide and 4.1 ft (1.24 m) high. It can seat up to seven occupants. The cockpit, second and third rows each seats two and an extra seat slides between the second and third row, but the third row is only large enough to accommodate children. It has a 300 kn (560 km/h) cruise speed.
Access to the cabin is through a clamshell door on the left hand side of the fuselage.[85] The SF50 is designed for a life limit of 12,000 flight hours. This is not a type certification limit.[9] The SF50 is the first jet to come with a whole-aircraft ballistic parachute, the company's CAPS, deploying from the aircraft's nose.
For more information on the design and development of the SF50, click here.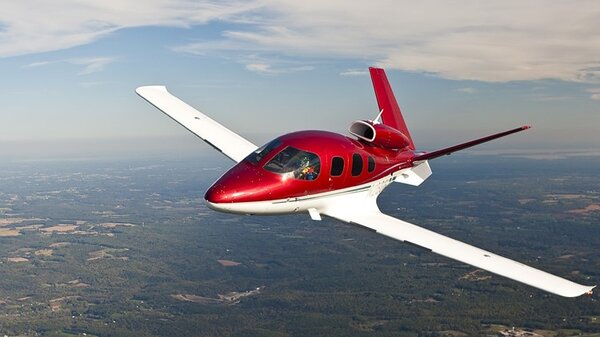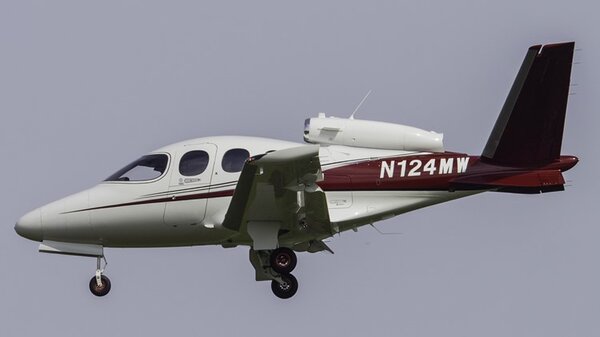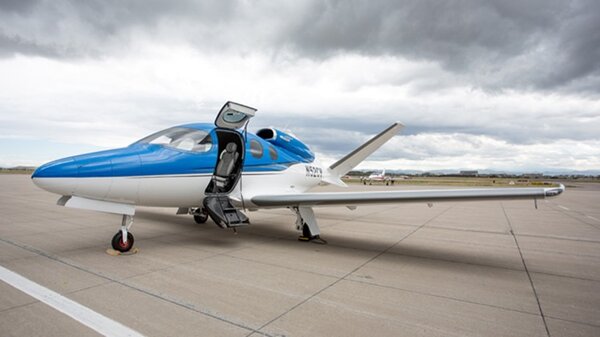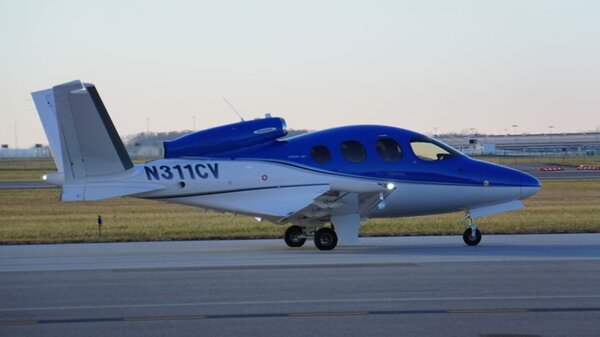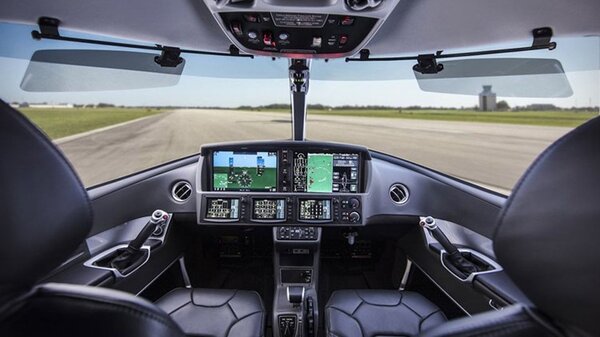 Specifications
Seats:

Crew: one Capacity: six passengers
Length:

30 ft 11 in (9.42 m)
Wingspan:

38 ft 8 in (11.79 m)
Height:

10 ft 11 in (3.32 m)
Empty Weight:

3,572 lb (1,620 kg)
MTOW:

Gross weight: 6,000 lb (2,722 kg)
Fuel Capacity:

2,000 pounds (910 kg)
Powerplant:

1 × Williams FJ33-5A turbofan, 1,800 lbf (8.0 kN) thrust
Vne:

Maximum speed: 300 kn (350 mph, 560 km/h) maximum cruise
Cruise Speed:

240 kn (280 mph, 440 km/h) economical cruise
Stall Speed:

67 kn (77 mph, 124 km/h) with flaps
Range:

600 nmi (690 mi, 1,100 km) with 1,200 lb (544 kg) payload at max cruise to 1,200 nmi (2,222 km; 1,381 mi) with 200 lb (91 kg) payload at economical cruise
Takeoff Dist.:

621 metres (2,036 ft) roll, 973 metres (3,192 ft) over 15 m (50 ft) obstacle
Landing Dist.:

496 metres (1,628 ft) ground roll
Rate of Climb:

Time to altitude: FL280 (28,000 feet (8,500 m)) in 20 min, burning 214 lb (97 kg) of fuel and covering 64 nmi (119 km; 74 mi)
Service Ceiling:

28,000 ft (8,500 m)