Description
The AS/SA 202 Bravo is a two to three-seat civil light aircraft jointly designed and manufactured by the Swiss company Flug- und Fahrzeugwerke Altenrhein (FFA) and the Italian company Savoia-Marchetti.
General Information
The aircraft was designated the AS 202 in Switzerland, and the SA 202 in Italy.
Savoia-Marchetti manufactured the wings, undercarriage and engine installation, while FFA manufactured the fuselage, tail and controls, while both companies had assembly plants manufacturing the complete aircraft.
The first Swiss model flew on 9 March 1969, the first Italian aircraft following on 8 May.
Bravo is a rugged all-metal low-wing monoplane with a full vision canopy. Its tricycle landing gear is fixed.
34 15s and 180 18s were built, with most in service with military customers. The biggest civil operator was Patria Pilot Training at Helsinki-Malmi Airport, Finland during 2000–2011.
Primary users: Indonesian Air Force, Ugandan Air Force. Number built 214.
Variants
AS/SA 202/10
With 115 hp Lycoming O-235-C2A engine
AS/SA 202/15
With 150 hp Lycoming O-320-E2A engine, fixed pitch propeller, optional third aft seat
AS/SA 202/18A
With 180 hp Lycoming AEIO-360-B1F engine, constant speed propeller, third aft seat, fully aerobatic.
AS/SA 202/26A
With 195 kW (260hp) Lycoming AEIO-540 engine. Only one aircraft manufactured so far.
AS 32T Turbo Trainer
Two-seat tandem trainer aircraft, powered by a 268 kW (360-hp) Allison 250-B17C turboprop engine. Only one aircraft manufactured.
FFA 2000 / FFT 2000 / Eurotrainer 2000
Composite derivative
Specifications below are for the 202/15 variant.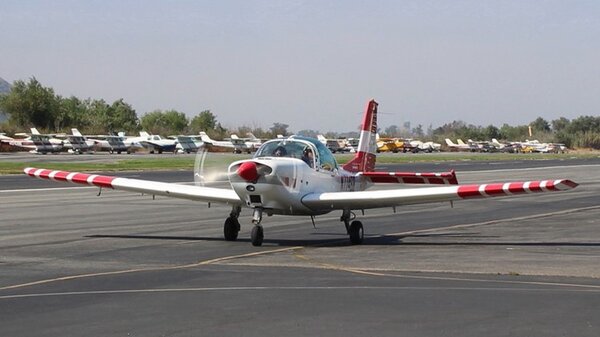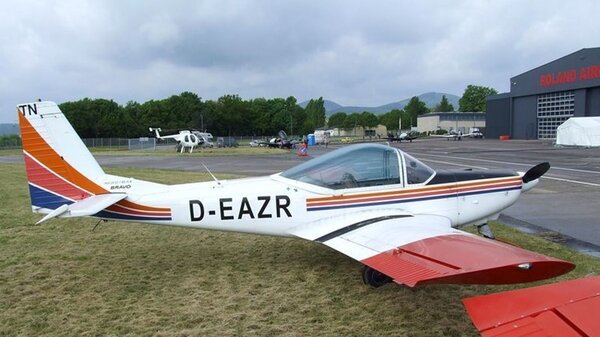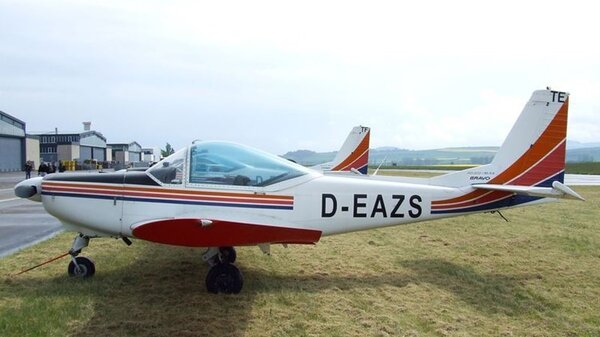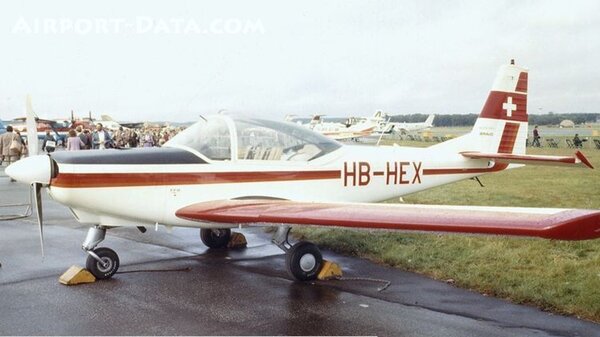 Specifications
Seats:

Two with optional third seat in rear.
Length:

7.5 m (24 ft 7 in)
Wingspan:

9.75 m (32 ft 0 in)
Height:

2.81 m (9 ft 3 in)
Wing Area:

13.86 sq m (149.2 sq ft)
Wing Loading:

72.2 kg/sq m (14.8 lb/sq ft)
Empty Weight:

630 kg (1,389 lb)
MTOW:

885 kg (1,951 lb) (and MLW) aerobatic 999 kg (2,202 lb) (and MLW) utility
Fuel Capacity:

140 l (37.0 US gal; 30.8 imp gal) in two wing leading-edge tanks
Powerplant:

1 × Lycoming O-320-E2A 4-cylinder air-cooled horizontally-opposed piston engine, 112 kW (150 hp)
Vne:

322 km/h (200 mph, 174 kn) (utility at MTOW), Maximum speed: 211 km/h (131 mph, 114 kn) (utility at MTOW) at sea level
Cruise Speed:

211 km/h (131 mph, 114 kn) (utility at MTOW) maximum ; 75% power at 2,440 m (8,005 ft)
Stall Speed:

110 km/h (68 mph, 59 kn) flaps up 89 km/h (55 mph; 48 kn) flaps down
Range:

890 km (550 mi, 480 nmi) max fuel no reserve
Rate of Climb:

3.22 m/s (633 ft/min)
Service Ceiling:

4,265 m (13,993 ft)