Description
The Quikkit Glass Goose is an American two-seat biplane amphibious aircraft, designed by Tom Scott and marketed for homebuilding by Quikkit of Dallas, Texas.
General Information
Tom Scott purchased a Sea Hawker kit in October 1984 and completed the aircraft in March 1986, constructing the aircraft according to the plans. He was not happy with the resulting aircraft and over five years incorporated improvements to address performance and stability shortcomings. The final design has more wing area, a larger hull surface and improved pylon aerodynamics, plus many other improvements. This redesign became the Glass Goose kit.
The Glass Goose features a cantilever biplane layout, without interplane struts, a two-seats-in-side-by-side configuration enclosed cockpit under a bubble canopy, retractable tricycle landing gear and a single engine in pusher configuration.
The aircraft is made from composites. Its 27 ft (8.2 m) span wing has an area of 12 m2 (130 sq ft). Standard engines used are 160 to 185 hp (119 to 138 kW) Lycomings, although the eight-cylinder 180 hp (134 kW) Jabiru 5100 and Mazda Wankel engines have also been employed.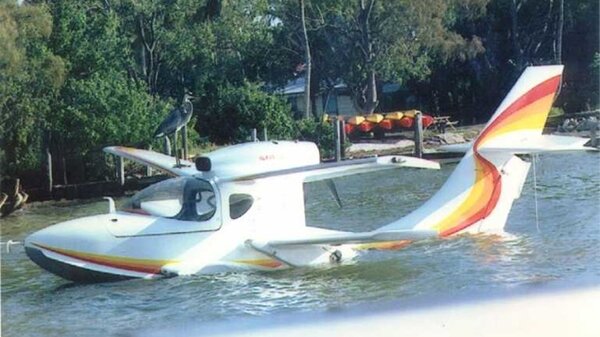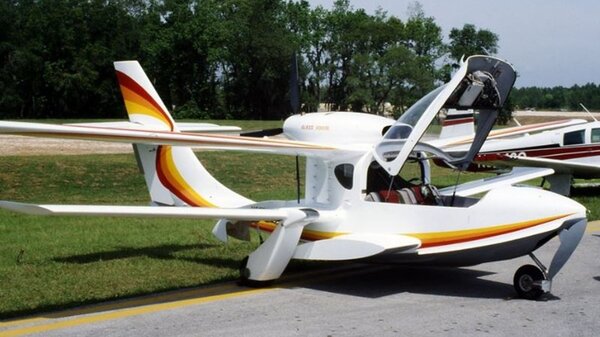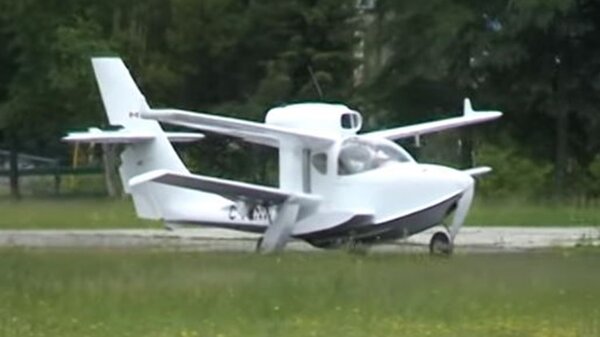 Specifications
Seats:

Crew: one Capacity: one passenger
Length:

19.5 ft
Wingspan:

27 ft 0 in (8.23 m)
Height:

7.5 ft
Wing Area:

130 sq ft (12 sq m)
Wing Loading:

14 lb/sq ft (68 kg/sq m)
Empty Weight:

899 lb (408 kg)
MTOW:

Gross weight: 1,799 lb (816 kg)
Fuel Capacity:

70 U.S. gallons (260 L; 58 imp gal)
Powerplant:

1 × Lycoming O-320 four cylinder, air-cooled, four stroke aircraft engine, 160 hp (120 kW)
Vne:

Maximum speed: 160 mph (257 km/h, 139 kn)
Cruise Speed:

140 mph (225 km/h, 121 kn)
Stall Speed:

42 mph (68 km/h, 37 kn)
Range:

1100 sm
Takeoff Dist.:

700 ft (700 ft water)
Landing Dist.:

900 ft (800 ft water)
Rate of Climb:

1,200 ft/min (6 m/s)
Service Ceiling:

13,000 ft