Description
The BAC 167 Strikemaster is a British jet-powered training and light attack aircraft.
General Information
It was a development of the Hunting Jet Provost trainer, itself a jet engined version of the Percival Provost, which originally flew in 1950 with a radial piston engine.
The BAC 167 Strikemaster is essentially an armed version of the Jet Provost T Mk 5; the Strikemaster was modified with an uprated engine, wing hardpoints capable of carrying four 500 pound Mk82 bombs, two machine guns under the intakes, uprated flap system with two jacks, larger airbrake jacks, new communication and navigation gear, different electrical system, canopy breakers on the ejection seats, and a revised fuel system including tip tanks on the wing tips. First flown in 1967, the aircraft was marketed as a light attack or counter-insurgency aircraft, but most large-scale purchasers were air forces wanting an advanced trainer, although Ecuador, Oman and Yemen have used their aircraft in combat. A total of 146 were built.
The Strikemaster was capable of operating from rough air strips, with dual ejection seats suitable even for low-altitude escape, and it was therefore widely used by third-world nations. Operations by the type were restricted by most military users after the Royal New Zealand Air Force found fatigue cracking in the wings of its aircraft. Many aircraft retired by Botswana, New Zealand, Saudi Arabia and Singapore have found their way into museums and private collections.
For more details, click here.
Operational history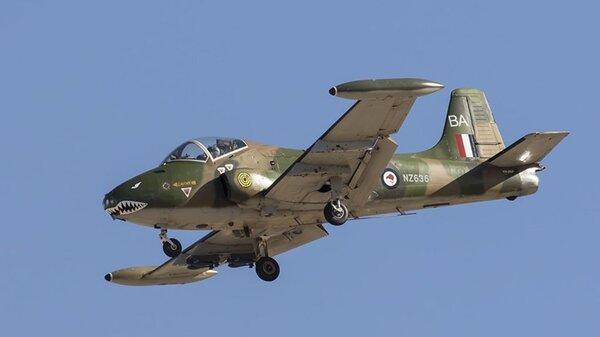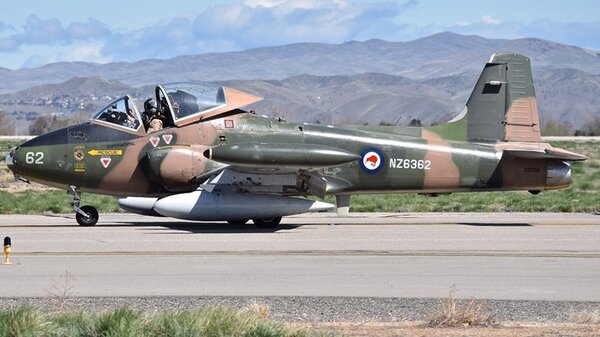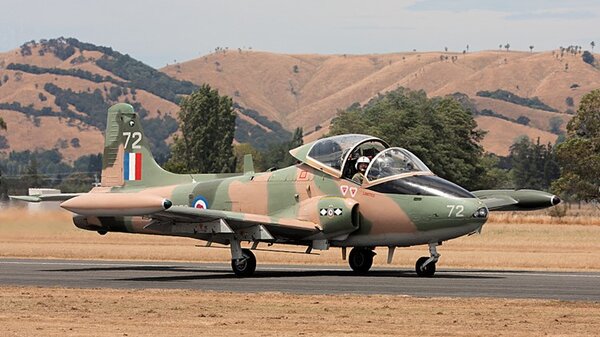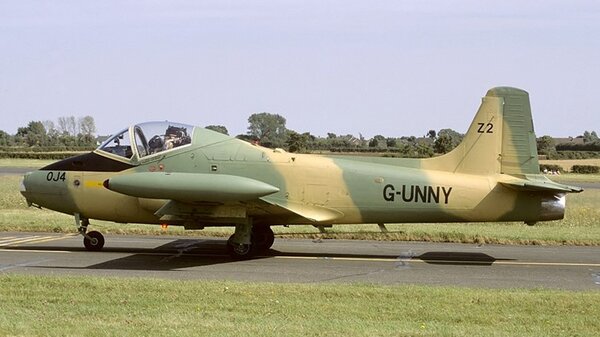 Specifications
Seats:

2 side by side
Length:

33 ft 8 1⁄2 in (10.274 m)
Wingspan:

36 ft 10 in (11.23 m)
Height:

10 ft 11 1⁄2 in (3.340 m)
Wing Area:

213.7 sq ft (19.85 sq m)
Empty Weight:

6,195 lb (2,810 kg)
MTOW:

11,500 lb (5,216 kg)
Fuel Capacity:

366 imp gal (440 US gal; 1,660 L) total including tip tanks
Powerplant:

1 × Rolls-Royce Viper Mk.535 turbojet, 3,140 lbf (14.0 kN) thrust
Vne:

518 mph (834 km/h, 450 kn)
Stall Speed:

98 mph (158 km/h, 85 kn) flaps down
Range:

3,182 mi (5,121 km, 2,765 nmi); Combat range: 145 mi (233 km, 126 nmi) combat radius: with 3,000 lb (1,400 kg) weapons, lo-lo-lo profile
Rate of Climb:

5,250 ft/min (26.7 m/s)
Service Ceiling:

40,000 ft (12,000 m)