Description
The Bell P-39 Airacobra was a single engine fighter aircraft with tricycle undercarriage and a centrally mounted engine located behind the pilot.
General Information
The Bell P-39 Airacobra was one of the principal American fighter aircraft in service when the United States entered World War II. The P-39 was used by the Soviet Air Force, and enabled individual Soviet pilots to collect the highest number of kills attributed to any U.S. fighter type flown by any air force in any conflict. Other major users of the type included the Free French, the Royal Air Force, the United States Army Air Forces, and the Italian Co-Belligerent Air Force.
Designed by Bell Aircraft, it had an innovative layout, with the engine installed in the center fuselage, behind the pilot, and driving a tractor propeller with a long shaft. It was also the first fighter fitted with a tricycle undercarriage. Although its mid-engine placement was innovative, the P-39 design was handicapped by the absence of an efficient turbo-supercharger, preventing it from performing high-altitude work. For this reason it was rejected by the RAF for use over western Europe but adopted by the USSR, where most air combat took place at medium and lower altitudes.
Together with the derivative P-63 Kingcobra, the P-39 was one of the most successful fixed-wing aircraft manufactured by Bell.
A total of 23 re-conditioned Airacobras, on loan from the U.S. Fifth Air Force (5 AF), were used by the Royal Australian Air Force (RAAF) as a stop-gap interceptor in rear areas. The aircraft were assigned the RAAF serial prefix A53.
In the early months of the Pacific War, the RAAF was able to obtain only enough Curtiss Kittyhawks to equip three squadrons, destined for front-line duties in New Guinea. and – in the face of increasing Japanese air raids on towns in northern Australia – was forced to rely on the P-40, P-39, and P-400 units of 5 AF for the defence of areas such as Darwin.
For more information on t he development,operational history and more than 50 variants, click here.
Specifications below are for the P-39Q variant.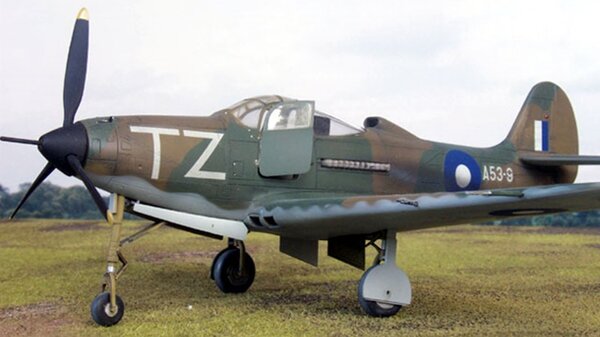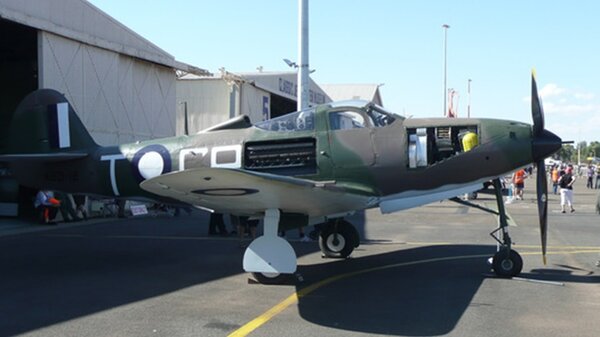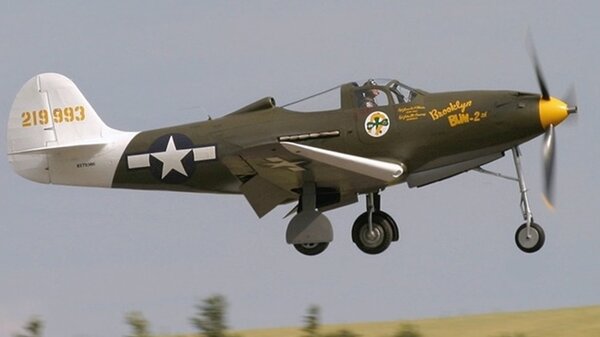 Specifications
Seats:

Crew: 1, with access via a side door similar to a motor vehicle.
Length:

30 ft 2 in (9.19 m)
Wingspan:

34 ft 0 in (10.36 m)
Height:

12 ft 5 in (3.78 m)
Wing Area:

213 sq ft (19.8 sq m)
Wing Loading:

34.6 lb/sq ft (169 kg/sq m)
Empty Weight:

6,516 lb (2,956 kg)
MTOW:

Gross weight: 7,570 lb (3,434 kg)
Powerplant:

1 x Allison V-1710-85 V-12 liquid-cooled piston engine, 1,200 hp (890 kW) at 9,000 ft (2,743 m) (using emergency power)
Vne:

525 mph (845 km/h, 456 kn), Maximum speed: 389 mph (626 km/h, 338 kn)
Stall Speed:

95 mph (153 km/h, 83 kn) power off, Flaps & undercarriage down
Range:

525 mi (845 km, 456 nmi) on internal fuel
Rate of Climb:

3,805 ft/min (19.33 m/s) at 7,400 ft (2,256 m) (using emergency power), Time to altitude: 15,000 ft (4,572 m) in 4 minutes 30 seconds, at 160 mph (260 km/h)
Service Ceiling:

35,000 ft (11,000 m)