Description
The CAC Wirraway was a training and general purpose military aircraft manufactured in Australia by the Commonwealth Aircraft Corporation (CAC) between 1939 and 1946.
General Information
The CAC Wirraway (an Aboriginal word meaning "challenge") was an Australian development of the North American NA-16 training aircraft. The Wirraway has been credited as being the foundation of Australian aircraft manufacturing.
During the Second World War, both the Royal Australian Air Force (RAAF) and Royal Australian Navy (RAN) deployed a number of Wirraways into combat roles, where they served in a makeshift light bomber/ground attack capacity, striking against the advancing forces of the Empire of Japan. While the type had been primarily used as a trainer and general purpose aircraft, being present in small quantities within the majority of front-line squadrons for these purposes, the aircraft was often pressed into combat when required. Typically, fighter versions of the Wirraway were operated over theatres such as New Guinea to perform ground attack missions and other Army co-operation tasks over extended periods until more advanced aircraft had become available in sufficient quantities.
The CAC Wirraway was a training and general purpose military aircraft. The fuselage comprised a welded framework composed of chromium steel, which was construction from four separately produced sections bolted together during final assembly. The sides of the fuselage featured fabric covering supported by aluminium alloy frames, while the underside and decking has metal coverings instead. The single-spar wings, which were built in five individual sections, were composed of spaced ribs and a stressed skin. The control surfaces were metal-framed with fabric covering; the split-flap arrangement of early Wirraways were supplemented on later-built aircraft via the addition of dive brakes. An all-metal stressed skin construction was used for the tailplane and fin; both side of the tailplane were interchangeable.
The Wirraway was powered by a single 600 hp Pratt & Whitney R-1340 Wasp radial engine, licence-built by CAC.[13] the engine drove a three-bladed variable-pitch propeller developed by de Havilland Propellers. Fuel was stored within a pair of 45 gallon tanks.[14] The two-man crew sat within a tandem cockpit, complete with a fully enclosed sliding canopy; both positions were fitted with flying controls. In addition, the rear cockpit featured a rotatable folding seat for the gunner/bomb-aimer, as well as a prone bombing position in the floor of the aircraft. The Wirraway could carry a light armament of a single 500 lb bomb or a pair of 250 lb bombs under the wings; light bombs or flares could also be carried underneath the centerline section. Additionally, a pair of forward-firing Vickers Mk.V machine guns were fitted along with a single swivel-mounted machine gun positioned at the rear of the cockpit.
For more details of the background, selecton, production and operational history, click here.
Details of the variants lists only the numbers of each variant built.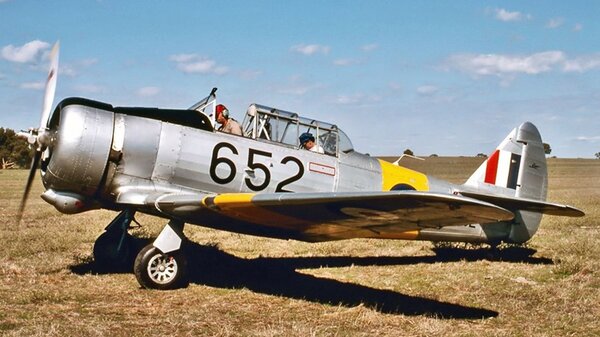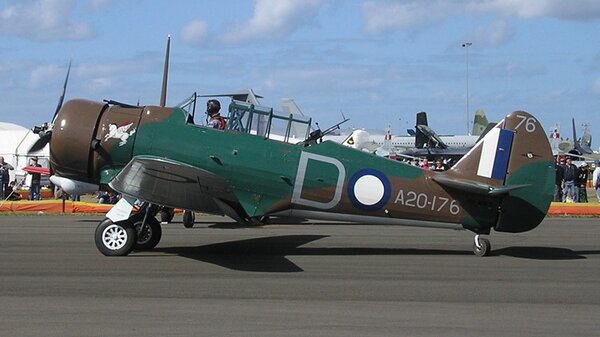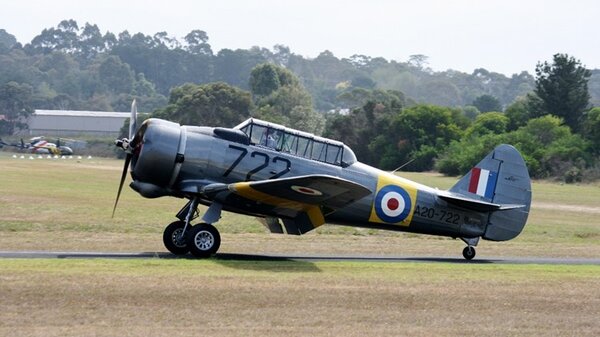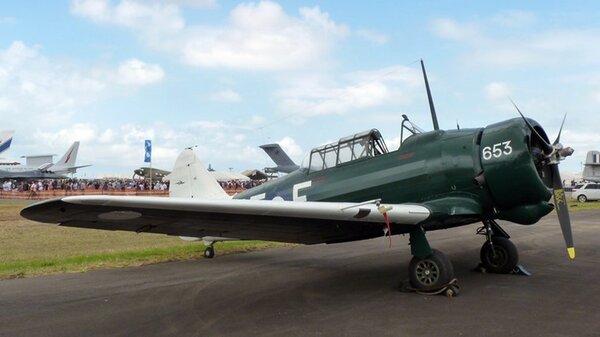 Specifications
Seats:

Crew: 2
Length:

27 ft 10 in (8.48 m)
Wingspan:

43 ft 0 in (13.11 m)
Height:

8 ft 8 3⁄4 in (2.661 m) (excluding radio mast)
Wing Area:

255.75 sq ft (23.760 sq m)
Empty Weight:

3,992 lb (1,811 kg)
Powerplant:

1 × Pratt & Whitney R-1340 S1H1-G nine-cylinder air-cooled radial engine, 600 hp (450 kW)
Vne:

Maximum speed: 220 mph (350 km/h, 190 kn) at 5,000 ft (1,500 m)
Cruise Speed:

182 mph (293 km/h, 158 kn) at 5,000 ft (1,500 m)
Range:

720 mi (1,160 km, 630 nmi) at 164 mph (143 kn; 264 km/h)
Rate of Climb:

1,950 ft/min (9.9 m/s)
Service Ceiling:

23,000 ft (7,000 m)