Description
The Messerschmitt Bf 109 is a German World War II fighter aircraft that was, along with the Focke-Wulf Fw 190, the backbone of the Luftwaffe's fighter force.
General Information
The Bf 109 first saw operational service in 1937 during the Spanish Civil War and was still in service at the dawn of the jet age at the end of World War II in 1945. It was one of the most advanced fighters when it first appeared, with an all-metal monocoque construction, a closed canopy, and retractable landing gear. It was powered by a liquid-cooled, inverted-V12 aero engine.
It was called the Me 109 by Allied aircrew and some German aces, even though this was not the official German designation. Originally the aircraft was designated as Bf 109 by the RLM, since the design was submitted by the Bayerische Flugzeugwerke (literally "Bavarian Aircraft Works", meaning "Bavarian Aircraft Factory"; sometimes abbreviated B.F.W.
It was conceived as an interceptor, although later models were developed to fulfill multiple tasks, serving as bomber escort, fighter-bomber, day-, night-, all-weather fighter, ground-attack aircraft, and reconnaissance aircraft. It was supplied to several states during World War II, and served with several countries for many years after the war. The Bf 109 is the most produced fighter aircraft in history, with a total of 33,984 airframes produced from 1936 to April 1945.
For extensive details of the development, design, operational history and variants, click here.
Specifications below are for the Bf 109G6 model.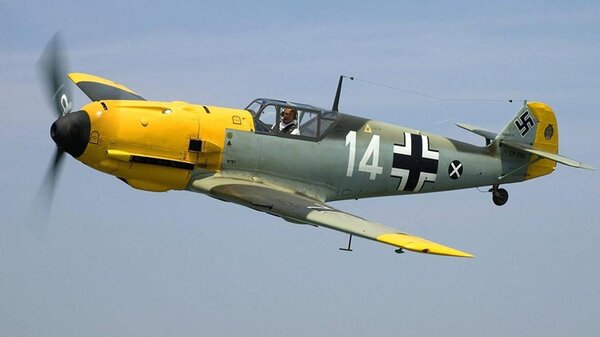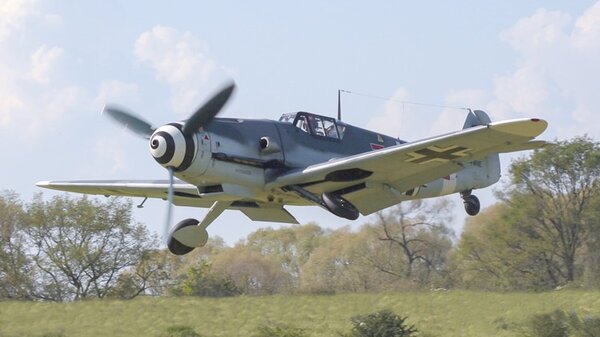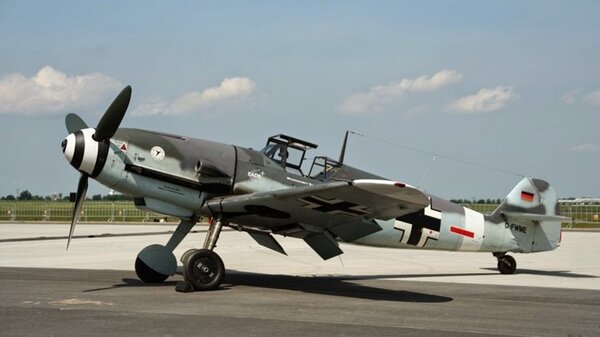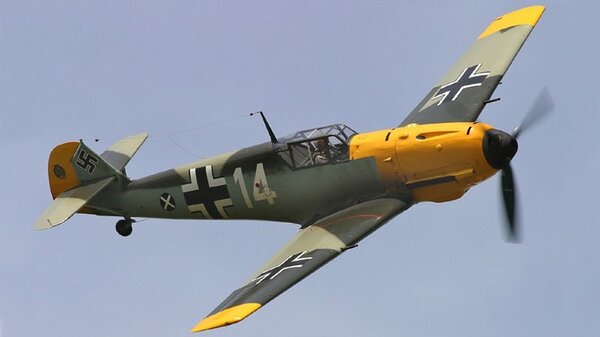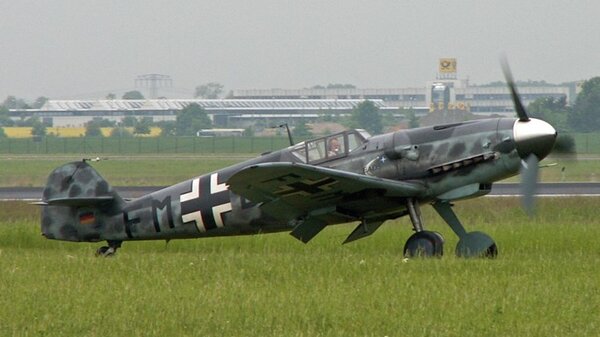 Specifications
Seats:

1
Length:

8.95 m (29 ft 4 in)
Wingspan:

9.925 m (32 ft 7 in)
Height:

2.6 m (8 ft 6 in)
Wing Area:

16.05 sq m (172.8 sq ft)
Wing Loading:

196 kg/sq m (40 lb/sq ft)
Empty Weight:

2,247 kg (4,954 lb)
MTOW:

3,400 kg (7,496 lb) Gross weight: 3,148 kg (6,940 lb)
Powerplant:

1 × Daimler-Benz DB 605A-1 V-12 inverted liquid-cooled piston engine 1,475 PS (1,455 hp; 1,085 kW)
Vne:

Maximum speed: 520 km/h (320 mph, 280 kn) at sea level, 640 km/h (400 mph; 350 kn) at 6,300 m (20,669 ft)
Cruise Speed:

590 km/h (370 mph, 320 kn) at 6,000 m (19,685 ft)
Range:

880–1,144 km (547–711 mi, 475–618 nmi), Combat range: 440–572 km (273–355 mi, 238–309 nmi) 440-572 km until the front and to back home
Rate of Climb:

17 m/s (3,300 ft/min)
Service Ceiling:

12,000 m (39,000 ft)