Description
The Mitsubishi A6M "Zero" is a long-range fighter aircraft formerly manufactured by Mitsubishi Aircraft Company, a part of Mitsubishi Heavy Industries, and operated by the Imperial Japanese Navy from 1940 to 1945.
General Information
The A6M was designated as the Mitsubishi Navy Type 0 carrier fighter (零式艦上戦闘機, rei-shiki-kanjō-sentōki), or the Mitsubishi A6M Rei-sen. The A6M was usually referred to by its pilots as the Reisen (零戦, zero fighter), "0" being the last digit of the imperial year 2600 (1940) when it entered service with the Imperial Navy. The official Allied reporting name was "Zeke", although the name "Zero" (from Type 0) was used colloquially by the Allies as well.
The Zero is considered to have been the most capable carrier-based fighter in the world when it was introduced early in World War II, combining excellent maneuverability and very long range. The Imperial Japanese Navy Air Service (IJNAS) also frequently used it as a land-based fighter.
With its low-wing cantilever monoplane layout, retractable, wide-set conventional landing gear and enclosed cockpit, the Zero was one of the most modern carrier-based aircraft in the world at the time of its introduction. It had a fairly high-lift, low-speed wing with very low wing loading. This, combined with its light weight, resulted in a very low stalling speed of well below 60 kn (110 km/h; 69 mph). This was the main reason for its phenomenal maneuverability, allowing it to out-turn any Allied fighter of the time. Early models were fitted with servo tabs on the ailerons after pilots complained that control forces became too heavy at speeds above 300 kilometres per hour (190 mph). They were discontinued on later models after it was found that the lightened control forces were causing pilots to overstress the wings during vigorous maneuvers.
For mre details of the development, design, operational history and variants, click here.
Specificaions below are for the A6M2 (Type 0 Model 21) variant.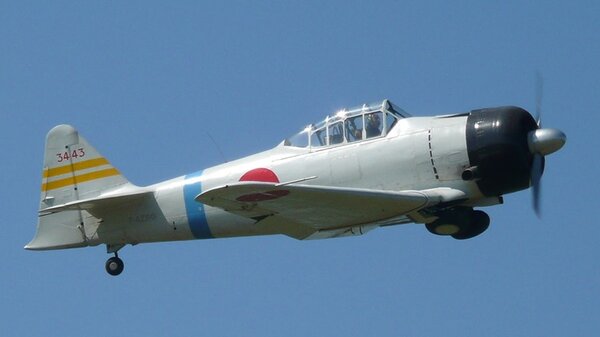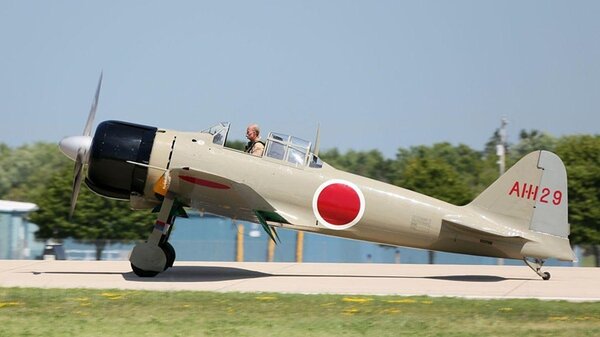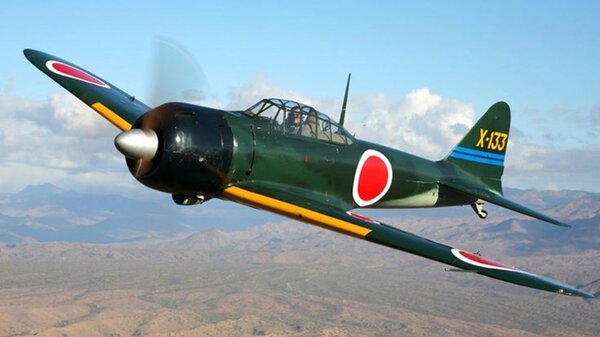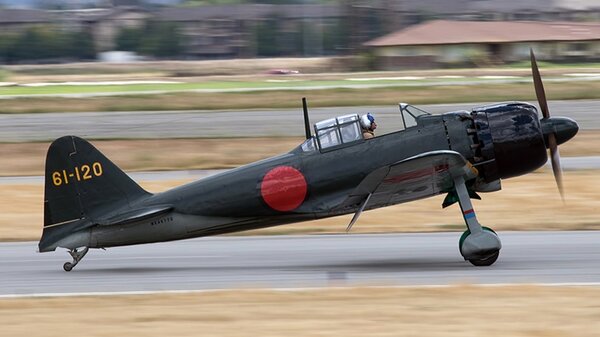 Specifications
Seats:

Crew: 1
Length:

9.06 m (29 ft 9 in)
Wingspan:

12 m (39 ft 4 in)
Height:

3.05 m (10 ft 0 in)
Wing Area:

22.44 sq m (241.5 sq ft)
Wing Loading:

107.4 kg/sq m (22.0 lb/sq ft)
Empty Weight:

1,680 kg (3,704 lb)
MTOW:

2,796 kg (6,164 lb)
Fuel Capacity:

518 l (137 US gal; 114 imp gal) internal + 1x 330 l (87 US gal; 73 imp gal) drop tank
Powerplant:

1 × Nakajima NK1C Sakae-12 14-cylinder air-cooled radial piston engine, 700 kW (940 hp) for take-off 710 kW (950 hp) at 4,200 m (13,800 ft)
Vne:

600 km/h (370 mph, 320 kn). Maximum speed: 533 km/h (331 mph, 288 kn) at 4,550 m (14,930 ft)
Cruise Speed:

333 km/h (207 mph, 180 kn)
Range:

1,870 km (1,160 mi, 1,010 nmi). Ferry range: 3,102 km (1,927 mi, 1,675 nmi)
Rate of Climb:

15.7 m/s (3,090 ft/min). Time to altitude: 6,000 m (20,000 ft) in 7 minutes 27 seconds
Service Ceiling:

10,000 m (33,000 ft)