Description
The Supermarine Spitfire is a British single-seat fighter aircraft that was used by the Royal Air Force and other Allied countries before, during, and after World War II.
General Information
Many variants of the Spitfire were built, using several wing configurations, and it was produced in greater numbers than any other British aircraft. It was also the only British fighter produced continuously throughout the war. The Spitfire continues to be popular among enthusiasts; nearly 60 remain airworthy, and many more are static exhibits in aviation museums throughout the world.
The Spitfire was designed as a short-range, high-performance interceptor aircraft by R. J. Mitchell, chief designer at Supermarine Aviation Works, which operated as a subsidiary of Vickers-Armstrong from 1928. Mitchell pushed the Spitfire's distinctive elliptical wing with cutting-edge sunken rivets (designed by Beverley Shenstone) to have the thinnest possible cross-section, helping give the aircraft a higher top speed than several contemporary fighters, including the Hawker Hurricane. Mitchell continued to refine the design until his death in 1937, whereupon his colleague Joseph Smith took over as chief designer, overseeing the Spitfire's development throughout its multitude of variants.
For details of the development and producton, design, testing, operational history of the Spitfire, click here. This link provides further links the large number of variants over the lengthy life of the Spitfire.
Specifications below are for the Spitfire Mk VB.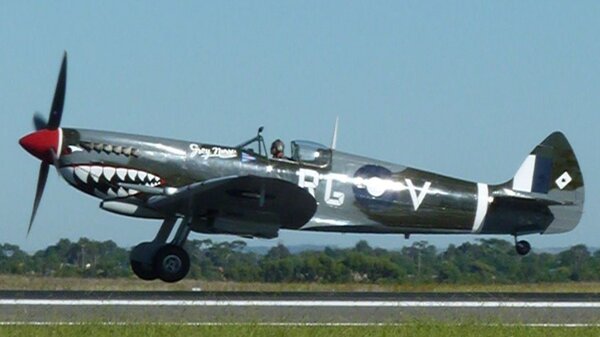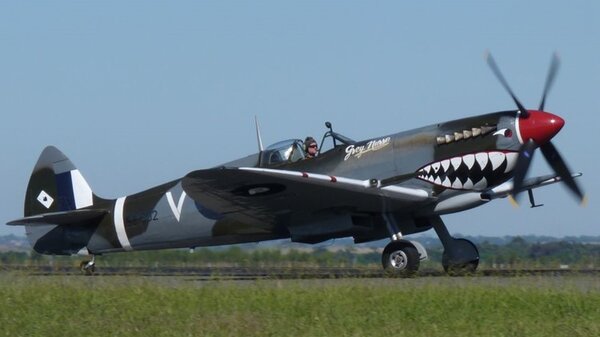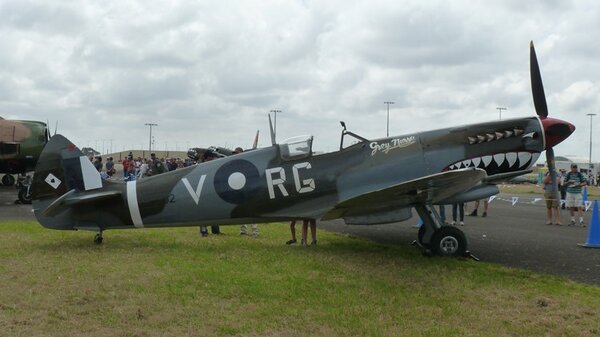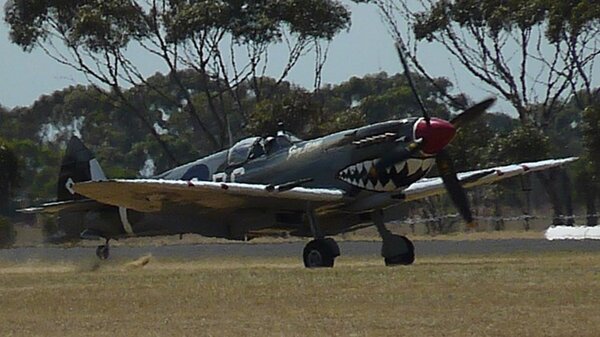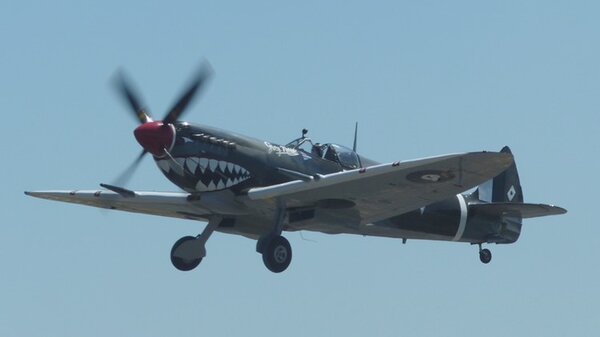 Specifications
Seats:

Crew: one
Length:

29 ft 11 in (9.12 m)
Wingspan:

36 ft 10 in (11.23 m)
Height:

11 ft 5 in (3.48 m)
Wing Area:

242.1 sq ft (22.49 sq m)
Wing Loading:

27.35 lb/sq ft (133.5 kg/sq m)
Empty Weight:

5,065 lb (2,297 kg)
MTOW:

6,700 lb (3,039 kg)
Powerplant:

1 × Rolls-Royce Merlin 45 V-12 liquid-cooled piston engine, 1,470 hp (1,100 kW)
Vne:

Maximum speed: 370 mph (600 km/h, 320 kn)
Range:

479 mi (771 km, 416 nmi) Combat range: 248 mi (399 km, 216 nmi) Ferry range: 1,100 mi (1,800 km, 960 nmi) with fuel tank
Rate of Climb:

2,600 ft/min (13 m/s)
Service Ceiling:

36,500 ft (11,100 m)